And the devil is in the detail. Nudie Jeans are now vegan because the back patches are no longer real leather.
Woke fashion aside, the politics behind the fashions remains as intense as ever.
In 2017, Meryl Streep turned down the opportunity to wear a custom couture Chanel creation to the Oscars after the fashion house refused to pay her to wear it.
Women's Wear Daily reported Chanel's then-creative director Karl Lagerfeld hit out at the actor, saying: "I made a sketch, and we started to make the dress", before stating that he later received a text message reading: "Don't continue the dress. We found somebody who will pay us".
Stars of Streep's ilk can pocket between $100,000 and $250,000 to wear a designer's fashion, though within the business it's referred to as "brand ambassadorships". Traditionally, it has been big-name actresses pocketing the bucks, including Cate Blanchett, Nicole Kidman, Miranda Kerr, Reese Witherspoon, Julia Roberts, but in recent years the men have been getting an increasing share of the lucrative business, including Jared Leto, who has become a fashion plate for Gucci.
Loading
The pressure of wearing a high-profile gown continues long after one has cleared the red carpet too.
I vividly remember sitting next to former Real Housewives of Melbourne star Gina Liano at the Logies a few years back. She was wearing a huge white ballgown that featured a ruffled "peplum" around the waist. Famous for her "theatrical" face makeup, during dinner Liano had mistaken her peplum for her white linen napkin.
When the awards had finished, she got up from the table sporting a new "shroud of Gina" motif on the front of her gown. While we shrieked in amusement, Liano did a B-line to the ladies room in a fit of panic.
And what about all the commentary about "non-gender conforming" outfits being worn by stars of all genders? Wasn't David Bowie doing that decades ago? Indeed, isn't it just another term for that old '80s pearler "unisex"?
Apparently not, as gender continues to be redefined in the 21st Century, so too fashion has become heavily politicised on that score.
Heartthrob pop gods like Harry Styles dress like anything but their butch predecessors of generations past, turning up in slinky lacey jumpsuits and still having legions of teenage girls squealing in delight.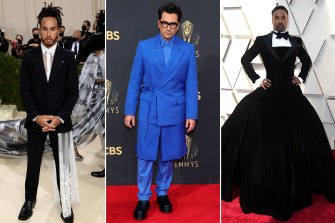 And after seeing the enormous effort the likes of Billy Porter goes to make a red carpet entrance, from giant ballgowns and 10-inch heels, I will never complain about having to put on my off-the-rack, black tie "penguin suit" ever again.
I'm happy to stay in my gender-conforming lane on that front and stick to the safety of a squat, half-inch stacked heel.
The Opinion newsletter is a weekly wrap of views that will challenge, champion and inform. Sign up here.