Manchester is set to welcome back the 'Northern Vegan Festival', an annual vegan one-day festival to take place on 15th May 2022.
The market will feature over 100 stalls selling cooked and raw vegan food, pies, cakes, chocolates, sandwiches and salads, beauty and skincare products, candles, cheeses, jewellery, crafts, healthy treats, sweet treats, clothing, drinks, juices, smoothies, charity merchandise and more.
Image Courtesy: Northern Vegan Festival Facebook
VEGANISM IN UK
A recent study showed that people in the UK are eating lesser meat and processed animal foods every year. The UK also is adding more and more people choosing a vegan lifestyle every year.
The annual Veganuary challenge saw a record-breaking number of 5,00,000 sign-ups in 2021 out of which 1,25,000 were from the UK. In 2022 the total number of people who signed up went up to 6,00,000.
Several polls in the UK have indicated that at least one-third of the population would like to switch to a plant-based diet.  Another study commissioned by a large food and beverage company showed that even among those who don't plan to go fully plant-based, many Britishers are likely to eat more vegetables, meat-free and dairy-free alternatives mostly out of concern for their own personal health and wellbeing and that of the environment.
NORTHERN VEGAN FESTIVAL IN MANCHESTER
The Northern Vegan Festival is being organised by Vegan Events UK, which was founded in 2017 "with the joint aim of promoting veganism and helping to fund the vegan-led animal welfare charity, Miracle's Mission."
Vegan Events UK conducts events all across the United Kingdom and have vegan events planned for Bath, Brighton, Bournemouth, Glasgow and several other cities.
Victoria Bryceson, the head organiser for the event said of last year's event, "Veganism is about ethical living and treating everybody with mutual respect and fairness. My aim with the festivals is to show people how incredible, varied, healthy, easy and affordable veganism can be."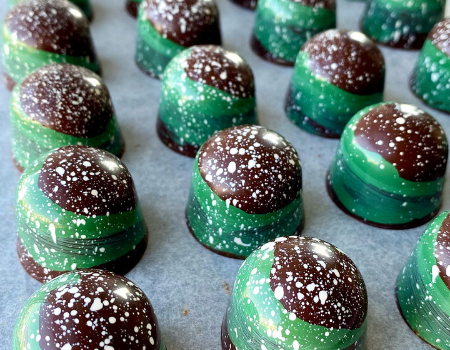 Vegan bonbons by Kind Hearted Chocolates
Image Courtesy: Northern Vegan Festival Facebook
This year the festival will be featuring stalls by Kind Hearted Chocs – an artisan vegan chocolate shop, Seitan's Kebab- a vegan street food business, Sow Foods, House of Habesha, LYF Cosmetics, Happy Mouse and many more.
Find all information about the festival here: https://www.facebook.com/NorthernVeganFestival/
Like this? Read: India is now an official Veganuary Campaign hub as 2021 sees 60,000 participants from the country
Read More: 5 Fun Vegan Facts From Around The World