While plant-based beef is everywhere you look, the plant-based turkey category is vastly underexplored. However, new products are coming to market to give consumers new choices that do not rely on the cruel turkey industry. 
At grocery chain Trader Joe's, a new vegan ground turkey product is set to hit stores this month, according to an Instagram post shared by @bigboxvegan. The internal employee communication shows that the new Turkeyless Ground is made with pea and textured wheat protein and will be stocked in the refrigerated section of the store nationwide. 
Priced at $5.49 and sold in 12-ounce packages (may vary per region), the new vegan turkey grounds are intended to be used in dishes such as tacos, meatless meatloaf, stuffed peppers, and more. Trader Joe's suggests seasoning the grounds with its in-store spices such as Taco Seasoning and Mushroom & Company Umami Seasoning Blend (both vegan) to bring out maximum flavor.
"Plant-based protein is all about having options: the option to make a dish that will satisfy meat-eaters and non-meat eaters alike, the option to engage in the occasional meatless Monday, the option to enjoy a juicy burger, regardless of protein preference—we really could go on," Trader Joe's describes the product. "So we think it's only fitting that the scope of plant-based protein itself should be brimming with options, too. In this spirit of plant-based pluralism, we're proud to introduce Trader Joe's Turkeyless Ground, a superbly savory protein that evokes the flavor, texture, and with 21 grams per serving, protein content of ground turkey to a seriously delicious degree."   
Trader Joe's vegan turkey burgers 
The new, more versatile product will fill the void left behind when Trader Joe's removed its plant-based turkey burgers from shelves. The grocery chain initially launched its Turkeyless Protein Patties in mid-2020. The formed patties were sold in packs of two, 4-ounce patties for $4.99 and featured a touch more protein, 23 grams, per serving than the new grounds. 
The vegan turkey burger patties closely followed the launch of Trader Joe's own plant-based beef patties—simply named "Protein Patties"—which Trader Joe's launched in January 2020. Since then, Trader Joe's has further expanded its refrigerated section with additional vegan meats, including Impossible Foods' plant-based beef grounds. 
3D-printed vegan turkey burgers? 
And Trader Joe's new vegan grounds are not the only new vegan turkey product on the market. Using the power of 3D-printing technology, Israeli company SavorEat is giving consumers the ability to fully customize their plant-based meats. While SavorEat came to market with  plant-based beef burgers, this week, it is expanding its scope to include plant-based turkey burgers and pork-free breakfast sausages. The company's technology relies on its Smart Robot Chef, which is powered by machine learning and artificial intelligence. The machine receives preference inputs—such as preferred protein and fat compositions and cooking preferences—from users interfacing with an application and then produces and cooks the desired plant-based meat from these inputs.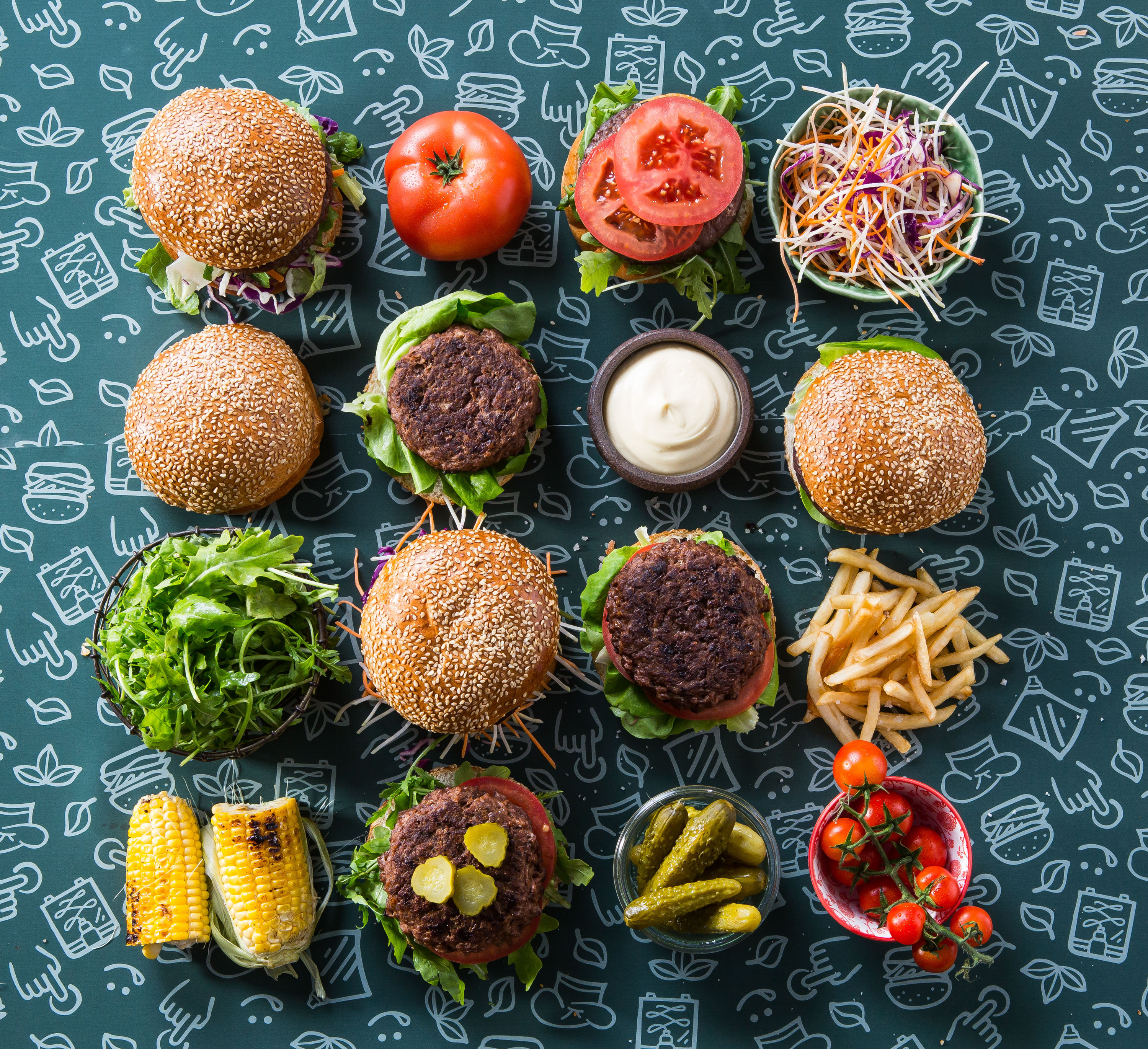 SavorEat
This design allows restaurants to reduce waste by only using a specific amount of plant-based meat, while also providing the consumer with a product that fits their nutrition and taste needs perfectly. Creating exciting new plant-based beef, turkey, and pork options is also a way to reduce waste on the production side, since animal-free meats require less environmental inputs and emit fewer greenhouse gasses. 
While plant-based beef, and to some extent plant-based pork, is widely available, outside of the upcoming grounds at Trader Joe's and a handful of older products, plant-based turkey is a less saturated category that differentiates SavorEat from other companies in the space.
"At SavorEat, we are passionate about offsetting carbon emissions and reducing waste, which is why we created a product that can do both," Racheli Vizman, CEO and co-founder of SavorEat, said in a statement. "By expanding into other plant-based meats, we aim to provide greater variety and customization, to empower the planet to eat differently, with more healthy and sustainable options to reduce ecological impact."
For the latest vegan news, read:
Startup Develops a Vegan Oyster Prototype To Save the Oceans
Vegan Fungi Protein Makes Fine-Dining Debut at NYC's Le Bernardin
Why Chipotle Invested in $150M Funding Round for Vegan Steak Startup Meati
Happy birthday, VegNews! To celebrate, we're having a mega subscription sale—complete with incredible vegan prizes.
Happy birthday, VegNews! To celebrate, we're having a mega subscription sale—complete with incredible vegan prizes.