September 16, 2022
I scream, you scream, we all scream for…If you were to make a list of all the things you'd miss when you go vegan or are already missing as a vegan, ice-cream leads the list. The good news is the ice-cream industry is changing and becoming more inclusive, as there is a growing demand for dairy-free, vegan ice-creams. Today popular brands across the world offer dairy-free variants not just for the growing vegan population but also for the high number of lactose intolerant adults and those with dairy allergies. Did you know more than 65% of adults in India are lactose intolerant? 
Baskin Robbins, one of the world's largest ice-cream brands, is launching two dairy-free, vegan variants: Mississippi Mud (Chocolate) and Vanilla. Many of us have grown up with Baskin Robbins and their range of thick, creamy ice-creams have always been a temptation.
Baskin Robbins' expertise lies in making indulgent ice-creams. With the growing vegan community in India, they wanted to bring that expertise and experience into making ice-creams that are decadent, delicious and importantly, vegan! The vegan variants are crafted with premium coconut milk and the choicest of ingredients to make them rich and indulgent. The brand invested time and research to ensure the best taste and flavour so you never have to miss their dairy counterparts. Are you wondering if you'll be able to taste the coconut milk? No, you won't even know it's there.
Vegan Mississippi Mud is one of their all-time popular flavours and a favourite with the Vegan First team too. It is a sinful chocolate flavour, with fudge swirled into thick chocolate ice-cream, mixed with brownie pieces, to be found like treasures in every mouthful. It's a chocolate lover's dream come true! If you've been vegan for years, you've probably missed your regular scoop of Mississippi Mud. Fret no more! You can head out and get a tub full.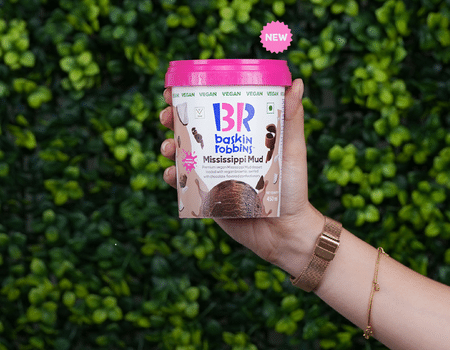 Vanilla is an all-time and all-age classic. Baskin Robbins has made a luscious and creamy vegan variant. Vanilla lends itself to many toppings including Oreo (which is surprisingly vegan; check pack before consumption incase of any change in ingredients). Or indulge in a delicious affagato. (Method: Brew coffee, put one scoop of vanilla in a mug, top with thick coffee decoction. Enjoy the sweet and bitter, hot and cold magic in each spoonful). If like me, you've missed sinking into a warm vegan chocolate brownie with a scoop of vanilla oozing all over it…no more!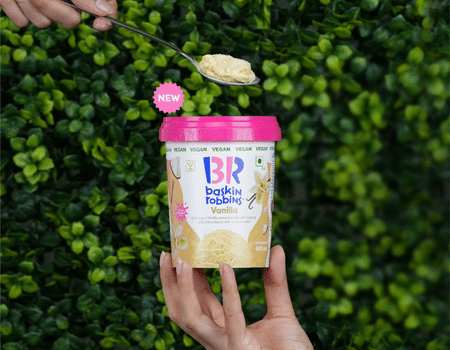 These new vegan variants are waiting in the freezers at all Baskin Robbins stores pan India as well at the official Baskin Robbins website. You can also order via Swiggy or Zomato. They are available in tubs of 450 ml, priced at Rs. 349 (Vegan Vanilla) and Rs. 389 (Vegan Mississippi Mud).
So will it be Vegan Vanilla or Vegan Mississippi Mud today? Vegan First recommends a scoop of each to draw out the flavours. Baskin Robbins Vegan Mississippi Mud and Vegan Vanilla now across stores in India—yes, it's vegan and you heard it at Vegan First.