September 25, 2022
Alia Bhatt and Ranbir Kapoor are expecting their first child together. Hence, preparations for the expectant mother's baby shower have already begun. Neetu Kapoor and Soni Razdan, who will host, have already begun making preparations. Well, without a mouthwatering food selection, what good is an event? We now know that Alia's baby shower will have specially curated cuisine with a vegan food options! If we remember correctly, there was also a separate station serving vegan burgers and sushi at Alia's wedding to Ranbir. It is all apt since in 2020, the actress reportedly became vegan. Read on to know more about Alia's baby shower and the considerations for pregnant women on a plant-based diet.
The date and décor 
Relating to the baby shower, we also now know that it will take place at some point in early October. Soon, the exact day will be announced. The decor, which is the most crucial aspect, is next. Alia is eschewing tradition in favour of a really original decor. Cute photos from her and Ranbir Kapoor's youth will be used as decorations for her baby shower. Isn't that a sweet way to reflect on the times gone by before they welcome their child?
Event to be hosted by the Grandmas' 
Neetu Kapoor and Sonia Razdan, who will soon become grandparents, are planning the biggest baby shower party to welcome the youngest member of the family. The expecting mother's preparations are in full flow. Although the precise day has not yet been determined, it will be observed in late September or early October. Alia's baby shower is being hosted by the future grandmas and is being decorated in a very unusual way.
The Kapoor sisters, Kareena Kapoor Khan and Karisma Kapoor, Alia's sister Shaheen Bhatt, Navya Naveli Nanda, Shweta Bachchan, Alia's former flames, and a few close friends are reportedly among the guests at the all-girls baby shower ceremony.
A Vegan Menu
Alia became a vegan in 2020, and she now adheres fervently to this radical change. The most mouthwatering vegan meals will be served at her baby shower, much like the vegan options on the menu for her wedding included sushi and vegan burgers.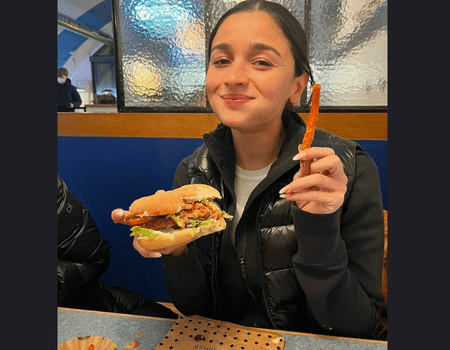 Here's the tea on whether veganism is healthy during pregnancy 
With the widespread options and selections for people who are eating plant-based food, there is no trouble in getting nutrition from a variety of vegan sources. Nevertheless, if you are apprehensive about depending on plant-based food during those precious 9 months of pregnancy, then read on.
You need to make sure you are receiving enough iron, vitamin D, vitamin B12, protein, and other forms of vitamins that are primarily found in meat and fish if you are pregnant and a vegan. Pulses, dark green vegetables, nuts, omega-3 fats, bread, fruits, and other plant-based foods are among the iron-rich foods for vegans. Similar to unsweetened soy beverages, marmite, fat spreads, and other yeast extracts, these foods are great resources of plant-based vitamins. 
Nutrient-dense meals, fortified foods, and supplements should all be a part of well-planned vegan diets. If you consume a vegan diet while expecting, be sure to consume enough of calcium-rich plant milks and yoghurt. These foods make it simpler to consume adequate calcium. When feasible, select versions without added sugar. Iron and zinc levels are high in nuts and walnuts. To satisfy your selenium needs, eat one to two nuts daily; to meet your alpha-linolenic acid needs, eat walnuts and hemp, chia, or flax seeds.
Since soy products are strong in protein, they can frequently be substituted for meat in recipes. Make an attempt to choose vegetable fats with a high Omega-3 fatty acid content. Avoid trans fats and tropical oils including coconut, palm, and palm kernel oil. The highest amounts of nutrients and plant chemicals are found in leafy greens, purple, red, and orange fruits and vegetables. You must stay away from foods like alcohol, caffeine, processed foods, sugary drinks, and raw sprouts if you are about to have a baby. But just as a caution, you must never modify your diet without first seeing your doctor, especially if you are pregnant.
Disclaimer: This information, including the recommendations, are only general in nature. It is in no way a replacement for expert medical advice. For more information, always speak with a specialist or your own physician.