When California friend Chrisi first heard the word "hotdish," she thought it was the funniest thing she had ever heard. A Duluth native explained to Chrisi that "casseroles" were reserved for fancy occasions. Whatever you call them, these are some tasty main dishes that are delicious with a green salad or fruit on the side.
1 tablespoon canola oil
1 small onion, diced fine
1 poblano pepper, diced fine
8 ounces mushrooms, thinly sliced
4 cloves garlic, minced
2 tablespoons flour
1 cup vegetable broth
½ cup vegan sour cream
(1) 10-ounce can tomatoes with chilis
1 cup shredded vegan pepper jack or cheddar cheese
1½ tablespoons lime juice
2 teaspoons mild chili powder
1 teaspoon cumin
8 ounces vegan chicken (seitan), shredded
1 can small white beans, drained
Salt and black pepper to taste
10-12 corn tortillas
Heat oven to 350 degrees.
Heat oil in a skillet. Saute onion, pepper and mushrooms until tender, about five minutes. Add garlic and saute another minute. Stir in flour then vegetable broth. Cook, stirring frequently, until mixture thickens. Add sour cream, tomatoes, and cheese. Cook, stirring frequently, until cheese melts. Add remaining ingredients except for tortillas.
Oil a 9-by-13-inch pan. Layer one-third of the sauce in the bottom of the pan, top with half the tortillas, then another one-third of the sauce, then remaining tortillas and the remaining sauce.
Bake for 30 minutes or until hot in the center and bubbly at the edges.
Savory Vegan Shepherd's Pie
Vegan burger crumbles tend to be a bit salty, so you might not want to add any salt to this dish.
Gravy:
1-1/2 cups beef-less broth
3 tablespoons low-sodium soy sauce
¼ teaspoon dried thyme
1/8 teaspoon black pepper
1½ tablespoons cornstarch softened with 3 tablespoons water
¼ cup soy creamer
Filling:
2 tablespoons canola oil
1 onion, finely chopped
1 carrot, finely chopped
1 12-ounce package frozen vegan burger crumbles
½ cup frozen peas
1 tablespoon low-sodium soy sauce
¼ teaspoon dried thyme
Ground pepper to taste
3-4 Yukon Gold potatoes, peeled and diced
½ cup soy creamer or soy milk
Preheat oven to 350 degrees.
Make the gravy: bring the broth, soy sauce, thyme and pepper to a boil over high heat in a small pot on top of the stove. Add the softened cornstarch and stir until thickened. Remove from heat and add the soy creamer. (Or, just do this in a microwave.)
In a large skillet, heat 1 tablespoon of canola oil over medium heat. Add onion and carrot. Cover and cook until soft, about seven minutes. Stir in burger crumbles, gravy, peas, soy sauce, thyme, and pepper. Remove from heat and set aside.
Boil potatoes in a pot of water until soft, about 20-30 minutes. Drain and mash with soy creamer or soy milk until creamy.
Spoon the filling mixture into a lightly oiled baking dish. Spread a layer of mashed potatoes on top and drizzle with remaining 1 tablespoon of canola oil. Bake until filling is hot and top is golden, about 30 minutes.
There are many versions of this recipe, but this is the one I made vegan. Vegan bacon, although delicious, overpowers the subtle flavors of dill and cream cheese; I think this recipe is better without the vegan bacon.
10 potatoes, peeled, sliced and boiled until barely cooked
2 large onions, quartered then sliced
2 cups green cabbage, chopped
2 cups cauliflower, chopped
1 can white beans, drained and rinsed
8 cloves garlic, crushed
2 teaspoons dried dill weed
2 tablespoons vegan cream cheese
4 tablespoons vegan sour cream
¼ cup soymilk
4 slices vegan bacon, cooked and crumbled
2 tablespoons sesame seeds
Canola oil
Paprika, salt and pepper
Preheat oven to 325 degrees.
Saute onions until softened. Add cabbage, cauliflower and garlic. Fry until the cabbage and cauliflower are tender. Add the cream cheese, milk, sour cream and dill to the skillet. Add white beans, then salt and pepper to taste.
Put half the sliced potatoes into a lightly oiled baking dish. Add the cauliflower mixture, then top with the remaining potatoes. Sprinkle the top with paprika and continue baking. Bake for about 20 minutes. Pull the casserole out of the oven, sprinkle with the sesame seeds and bacon, if using, and bake for a few more minutes.
Chicken and Rice Casserole
2 tablespoons canola oil, divided
2 cups sliced mushrooms
¼ teaspoon dried thyme
10-ounce package vegan chicken
3 tablespoons flour
1 cup plant-based milk
1 envelope plant-based dry onion soup mix
1 cup cooked brown rice
2/3 cup vegan sour cream
2 tablespoons vegan mayonnaise
2 tablespoons nutritional yeast flakes
1 cup shredded vegan cheddar cheese
Heat oven to 350F. Lightly oil a 9-inch baking dish.
Heat canola oil in skillet and saute mushrooms until the mushrooms are tender. Add the thyme and saute for a minute longer. Add vegan chicken and flour. Stir then add plant-based milk. Add onion soup mix. Cook and stir for about two minutes until a sauce forms.
Stir in the cooked brown rice, vegan sour cream, vegan mayonnaise and nutritional yeast flakes.
Transfer this to a baking dish and sprinkle with the vegan cheddar cheese.
Bake for 15-20 minutes, until the cheese melts.
Serve warm.
1 tablespoon canola oil
3 cloves minced garlic
1 small onion, chopped
14-ounce vegan burger crumbles with Italian seasoning added
1 cup mushrooms, chopped
16-ounce package of frozen veggies
1/2 teaspoon sage
½ teaspoon thyme
¼ cup all purpose flour
2 cups non-dairy milk
Salt and ground black pepper to taste
About 4 cups frozen tater tots, thawed slightly to break apart
Preheat oven to 350 degrees.
Heat the oil in a 12-inch cast iron skillet or Dutch oven. Add the garlic and onions, season with salt and ground black pepper, and cook over medium heat, about 5 minutes, or until onions are softened. Add the vegan burger crumbles and stir for a couple minutes. Add the mushrooms and stir well. Saute for a few minutes until the mushrooms start to soften, then add the sage and thyme and the flour and mix well. Add the frozen veggies and the nondairy milk. Stir frequently until the mixture just comes to a boil. Turn off the heat.
Arrange the frozen tater tots on top of the veggies. Place the skillet or Dutch oven in the oven and bake 55 minutes or until the tater tots are golden-brown. Remove from the oven and let stand for 5 minutes before serving.
1 pound loaf of crusty white bread
2 cups canned light coconut milk
½ cup light brown sugar, plus more for sprinkling on top
6 ounces soft, silken tofu
2 tablespoons cornstarch
2 teaspoons ground cinnamon
2 teaspoons vanilla extract
½ teaspoon fine salt
2 tablespoons vegan margarine
½ cup chopped pecans  
Frosting (optional):
½ cup powdered sugar
1 tablespoon vegan margarine
1-2 tablespoons non-dairy milk
Cut the bread into 1-inch cubes and put them into an ovenproof dish that measures about 8 by 12 inches or 9 by 13 inches.
Combine the coconut milk, brown sugar, tofu, cornstarch, cinnamon, vanilla, salt and vegan butter in a blender and blend until smooth.
Pour the coconut mixture over the bread cubes, making sure to cover each one as you pour. Let sit 30 minutes or overnight.
Preheat the oven to 350 degrees. Top the casserole with a sprinkling of brown sugar and pecans.
Bake uncovered for 35-40 minutes or until the top layer of bread cubes are lightly browned.
To make a frosting, combine the sugar and melted margarine. Add non-dairy milk, a tablespoon at a time, until desired consistency is reached. Drizzle on casserole when thoroughly cooled.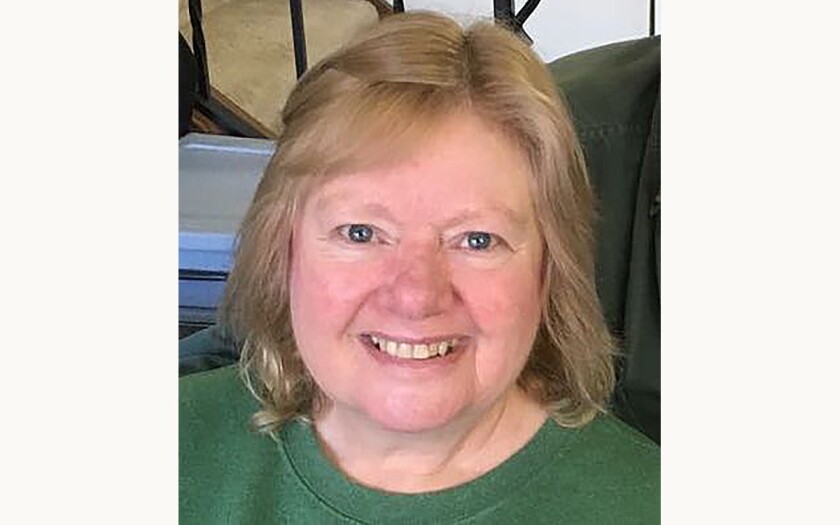 Susan Alexander is food columnist for the Duluth News Tribune. She loves gardening, farmers markets and creating delicious meals consisting of whole grains, fresh vegetables and fruits.
window.fbAsyncInit = function() { FB.init({
appId : '929722297680135',
xfbml : true, version : 'v2.9' }); };
(function(d, s, id){ var js, fjs = d.getElementsByTagName(s)[0]; if (d.getElementById(id)) {return;} js = d.createElement(s); js.id = id; js.src = "https://connect.facebook.net/en_US/sdk.js"; fjs.parentNode.insertBefore(js, fjs); }(document, 'script', 'facebook-jssdk'));