Make stuffed cabbage rolls, mapo tofu and vegetarian roast goose from chef Hannah Che's cookbook debut
Get the latest from Laura Brehaut straight to your inbox
Reviews and recommendations are unbiased and products are independently selected. Postmedia may earn an affiliate commission from purchases made through links on this page.
Article content
Our cookbook of the week is The Vegan Chinese Kitchen by Hannah Che. Tomorrow, we'll feature an interview with the author.
Article content
From Egypt to Germany, you'll find a version of cabbage rolls in many of the world's cuisines. When chef, photographer and writer Hannah Che first made the inspiration for these ones — a traditional temple dish she learned at a vegetarian culinary school in Guangzhou, China — she wondered why she hadn't tried them before.
The simplified version she features in her cookbook debut, The Vegan Chinese Kitchen, is as pretty to look at as it is a pleasure to create. "I love making foods that are just fun to make as well as to serve and eat," says Che.
Here, she retains the elegant presentation of the original while streamlining the process. To make the temple dish, you blanch the cabbage, stuff the leaves, wrap them individually in parcels, steam them and then serve in a clear sauce. In Che's version, you blanch the cabbage briefly, season with sesame oil, fill and roll.
Article content
A mixture of tofu skin, oyster mushrooms, carrots, cilantro and crushed peanuts, the filling alone is so delicious, Che often eats it straight from the bowl.
And though she's made the temple dish several times, Che prefers her pared-down recipe. "This version actually tastes better than that one," she says, laughing. "It tastes fresher."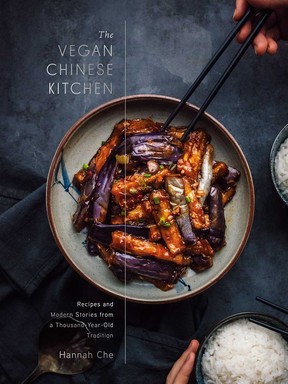 The second recipe, mapo tofu, is a veganized version of a well-loved Sichuanese dish.
"If you ask any Chinese person, 'What's a dish with tofu?' they're going to be like, 'Oh, mapo tofu,'" says Che. "It's the most famous, iconic tofu dish in China."
In its original version, mapo tofu is made with ground beef (and now, commonly, pork). But the character of the dish rests more on four foundational ingredients than it does meat, Che explains: chili bean paste, fermented black beans, red chilies and Sichuan peppercorns. As she learned at culinary school, "everything else (is) negotiable."
Article content
Shiitake mushrooms are a natural choice for a vegetarian version because they can be minced like meat, are full of flavour and can be incorporated into the dish seamlessly, she adds.
"When I made it this way using the mushrooms, I found that I didn't really miss the meat because you had those same flavours. The numbing, spicy, very satisfying flavours behind it," says Che. "You really don't miss the meat at all in a dish like this."
Lastly, Che's vegetarian roast goose is slightly more involved than the other two recipes (it's steamed and then fried) but well worth the effort. "This is one of those holiday dishes that I would make," she says.
Article content
The roots of vegetarian roast goose can be traced back to the Buddhist community living in Jiangnan Province during the Song dynasty (960–1279), Che highlights. The mock meat was even included in Recipes from the Garden of Contentment, gastronome Yuan Mei's 18th-century culinary classic, which Toronto scholar Sean J.S. Chen translated and annotated in 2018.
"It is a very, very traditional dish. But then it highlights tofu skin in a way that I think a lot of people aren't familiar with," says Che, adding that the name itself is a misnomer. "It's not related to tofu — it's not made out of curds. It's a sheet of protein that is lifted off of soy milk."
Here, tofu skin is layered with sauce, filled with slivers of shiitake mushrooms, carrots and bamboo shoots, steamed and then fried to give the goose its crisp skin.
Article content
"It becomes really crispy, like shatteringly crispy," adds Che. "And you have all these layers inside that are still very tender and kind of meaty."
Imitation-style dishes and mock meats have fallen out of favour in contemporary vegetarian restaurants, says Che, but roast goose is as popular as ever. "I love this dish because it's one of those enduring dishes from this tradition. Even in modern restaurants in China, you'll still see it."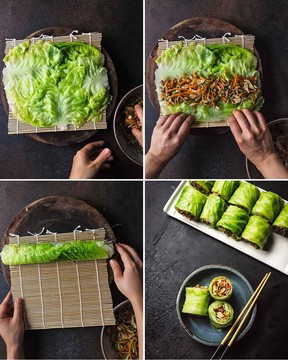 STUFFED CABBAGE ROLLS
Bāocài juˇan
Kosher salt
1 lb (450 g) green cabbage, preferably flat-head cabbage, leaves separated (about 20 leaves)
2 tbsp vegetable oil
1 tbsp minced garlic
1 medium king oyster mushroom (6 1/2 oz/180 g), both caps and stems thinly julienned
1 small carrot, thinly julienned
2 tsp soy sauce
4 oz (112 g) fresh or frozen and thawed tofu skin, cut into thin shreds
1/2 tsp ground cumin
1/2 tsp sugar
1/4 tsp ground white pepper, or to taste
1/2 cup coarsely chopped fresh cilantro
1/3 cup crushed Fried Peanuts (recipe follows)
1 tsp toasted sesame oil
Article content
Step 1
Bring a large pot of generously salted water to a boil. Add the cabbage leaves and blanch until they are softened and vibrant green, about 1 minute. Refresh in cold water and drain in a colander.
Step 2
Heat a wok over medium heat. Add the vegetable oil and swirl to coat the sides of the wok. Add the garlic and cook until aromatic, about 15 seconds. Add the mushrooms, carrot and soy sauce. Stir-fry until the mushrooms have softened and released their liquid, about 3 minutes. Add the tofu skin, cumin, sugar, white pepper and 1/2 teaspoon salt and stir until the tofu skin is heated through, scraping down any parts that stick to the wok. Remove from the heat and stir in the cilantro and crushed peanuts. Taste and add more salt, if needed. Transfer the filling to a bowl.
Article content
Step 3
Lay one cabbage leaf on a cutting board and shave off its thick stem, trimming it as thin as possible without cutting into the leaf. The pared-down spine will make the leaf flatter and easier to bend. Repeat with the remaining leaves. Toss them in a large bowl with the sesame oil to lightly coat, giving the leaves a shine and aroma.
Step 4
Lay out a bamboo sushi mat (or cover a tea towel with plastic wrap). Place a third of the leaves across the mat and flatten them. Place a third of the filling on the cabbage leaves, spreading it evenly and leaving an inch of the leaves exposed at the top and bottom. Hook your thumbs under the mat and lift the edge closest to you up and over the filling in the centre. Press gently with curved hands along the length of the "log," then pull the edge of the mat toward you and continue to roll the cabbage up and away from you. When you reach the far edge of the cabbage leaves, press the roll tightly once more, then remove the mat. Repeat with the remaining cabbage leaves and filling to make 2 more rolls. With a sharp serrated knife, slice the rolls into 2-inch-wide segments.
Article content
Step 5
Enjoy immediately or chill before serving.
Serves: 4 to 6
FRIED PEANUTS
Zhà huāshēng
1 1/2 cups (235 g) shelled raw peanuts, preferably with skins
2 cups (480 mL) vegetable oil or other neutral-flavoured oil, at room temperature
Kosher salt
Step 1
Place the peanuts and oil in a medium pot. Over medium-low heat, bring the oil up to 240F (115C). You should see tiny, vigorous bubbles surrounding the peanuts as their water molecules are driven out. Stir the peanuts continuously, keeping the oil temperature at 240F (115C).
Step 2
After about 15 minutes, the peanuts will be fragrant and start to make a cracking sound. When they are lightly golden under their skins, 3 to 5 minutes more, increase the heat to raise the oil temperature to 280F (137C). Cook for another 15 seconds to expel any absorbed oil — this step will make them crispier — then immediately lift the peanuts out with a skimmer or slotted spoon.
Article content
Step 3
Transfer the peanuts to a paper towel–lined plate — the peanuts will continue to darken as they cool. Sprinkle generously with salt while they're hot. The peanuts will crisp up gradually, so wait until they cool completely before enjoying them. Store in an airtight container or a lidded jar in a cool, dry place for up to 3 months.
Makes: 1 1/2 cups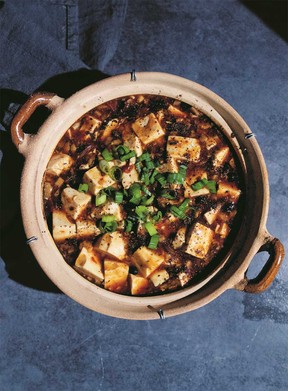 MAPO TOFU
Mápó dòufu
4 or 5 dried shiitake mushrooms
Kosher salt
14 to 16 oz (390 to 450 g) firm tofu, cut into 3/4-inch cubes
1 tbsp potato starch
3 tbsp vegetable oil
2 tsp whole Sichuan peppercorns
5 dried red chilies, cut into 3/4-inch segments and seeds shaken out
1 tbsp peeled and minced fresh ginger
1 tbsp minced fresh garlic
1 tbsp fermented black beans, coarsely chopped
2 1/2 tbsp Sichuan chili bean paste
1 tsp ground Sichuan chili or chili flakes
1 cup unsalted stock of any kind or water
1/2 tsp sugar
1 tsp soy sauce
2 scallions, green parts only, thinly sliced, for garnish
1/2 tsp ground Sichuan peppercorns
Article content
Step 1
Soak the mushrooms in hot water for 30 minutes to rehydrate, then drain, stem and finely chop them.
Step 2
Bring a pot of salted water to a boil. Reduce the heat to low, add the tofu cubes and simmer gently for 10 minutes to refresh the tofu's flavours and firm it up.
Step 3
Make a slurry by combining the starch with 1/4 cup cold water in a small bowl. Stir until smooth and set aside.
Step 4
Heat a wok over medium heat until a bead of water evaporates immediately upon contact. Add the oil, swirling to the coat sides of the wok. Reduce the heat to low. Add the whole Sichuan peppercorns and dried chilies and stir-fry for 1 to 2 minutes to infuse the oil with flavour, until the chilies are slightly darkened in colour and aromatic. Do not burn them. Remove from the heat. Using a slotted spoon, remove and discard the spices, leaving behind the aromatic oil.
Article content
Step 5
Return the wok to medium-high heat and add the mushrooms, ginger and garlic. Fry for 1 minute, until the mushrooms are beginning to brown. Scoot them up one side of the wok.
Step 6
Add the fermented black beans, chili bean paste and ground chili and stir-fry briefly for 10 seconds to release their fragrance. Pour in the stock, then add sugar and soy sauce. Bring the liquid to a boil.
Step 7
Lift the tofu cubes from the hot water with a slotted spoon and place them gently in the wok. To keep them from breaking, don't stir; instead, move the wok in a swirling motion, shifting the sauce as it bubbles under the tofu. Bring to a full boil.
Step 8
Give the starch slurry a stir and drizzle about a third of it into the wok, swirling the wok gently to mix in the slurry as the liquid thickens. Repeat this two more times, until the sauce is glossy and clings to the tofu, then remove the wok from the heat and transfer everything to a serving dish. Sprinkle with the scallions and the ground peppercorns (these provide the tingly mouthfeel) and serve.
Article content
Serves: 4 to 6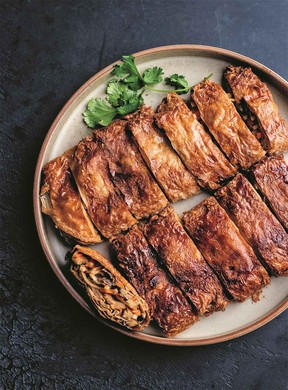 VEGETARIAN ROAST GOOSE
Sù shāo'é
For the sauce:
2 tbsp Shaoxing wine
2 tbsp soy sauce
2 tbsp sugar
1 tsp dark soy sauce
1 tsp toasted sesame oil
For the filling:
3/4 oz (20 g) dried shiitake mushrooms (about 4 large)
1 cup (240 mL) boiling water
2 tbsp vegetable oil
1 (2-inch) piece (15 g) fresh ginger, peeled and thinly slivered
1/2 cup (70 g) thinly julienned fresh or thawed frozen winter bamboo shoots
1 medium carrot, julienned
1/2 tsp kosher salt, plus more to taste
3 (24-inch) circular semi-dried tofu skin sheets, halved to make 6 semicircles (5 oz/135 g)
Vegetable oil, for frying (optional)
Step 1
Make the sauce: Combine all the sauce ingredients in a small bowl. Set aside.
Step 2
Make the filling: Soak the mushrooms in the boiling water for 30 minutes, until plump. Snip off and discard the mushroom stems and cut the caps into thin slivers. Reserve the soaking liquid.
Article content
Step 3
Heat a seasoned wok over medium heat and add the vegetable oil, swirling to coat the sides. Add the ginger and stir-fry until aromatic, about 30 seconds. Add the mushroom caps, bamboo shoots and carrot. Stir-fry to combine. Pour in about 2 tablespoons of the sauce and stir-fry until the sauce has been absorbed, then season with salt to taste. Scrape into a bowl and let the filling cool.
Step 4
In the meantime, trim off the string-like edges of the tofu skin sheets. Discard or use as a "brush." On a flat surface, lay out one tofu skin sheet with the straight edge toward you. Using the trimmed edges, a spoon or a pastry brush, rub a light layer of the remaining sauce over the first sheet. Top with a second sheet and brush again. Repeat with one more skin.
Article content
Step 5
Pile half the filling in the centre of the stacked tofu skin sheets, about 3 inches from the straight bottom edge. Fold the left and right sides of the stack toward the centre, then press down gently. Brush a thin layer of the sauce on the bottom edge to help seal it. Fold the bottom up and over the filling, then roll it into a packet about 4 × 8 inches in size. Set on a plate and cover so it doesn't dry out. Stack and fill the remaining 3 tofu skins to make a second packet.
Step 6
Line a bamboo steamer with a muslin cloth or perforated parchment paper. Place the rolls seam-side down in the steamer, cover and steam over medium-high heat for 6 to 7 minutes, until the tofu skin is wrinkled and darkened. Remove from the steamer and let cool to room temperature. It may be served as is, but for the full effect, fry it.
Article content
Step 7
If desired, heat about 3 inches of oil in a wok over medium-high heat to 350F (175C). Gently slide the steamed rolls into the wok and deep-fry, turning the rolls once, until both sides are golden brown, about 3 minutes on each side. Remove and let cool on a paper towel–lined plate. With a sharp knife, cut the rolls into 1-inch-wide pieces and serve immediately.
Serves: 4 to 6
Recipes and images excerpted from The Vegan Chinese Kitchen by Hannah Che. Copyright ©2022 Hannah Che. Photographs by Hannah Che. Published by Appetite by Random House®, a division of Penguin Random House Canada Limited. Reproduced by arrangement with the Publisher. All rights reserved.
Get the latest from Laura Brehaut straight to your inbox