December 29th, 2022
You might naturally picture sweet confections that are loaded with butter, cream, and eggs when you think of dessert. However, vegan desserts can alter your perception of what a delectable treat can be. Today, people have embraced decadent, scrumptious plant-based sweet delights, ranging from classics like brownies and banana breads to seasonal favourites like pumpkin pie and peach cobbler. Ingredients like butter can be swapped out for plant-based foods like fruit and vegetable purees or nut butters in most confections. In fact, some of the richest, creamiest, chocolateiest, and most delicious delicacies you can find are plant-based desserts.
Vegan desserts especially come in handy when you find it challenging to prepare food for a large group of people when trying to accommodate their varying dietary preferences. So, you can't deny that the need for vegan desserts is rising, and this demand is fueled by rising veganism popularity as well as ongoing market research. In 2023, Food & Drink specialty stores hold a market share of just under 16.3% in the global Vegan Desserts market. As a result, the market for vegan desserts is predicted to grow at an 8.5% CAGR, with the United Kingdom, the United States, Germany, and Japan emerging as major producers. Here's a deeper look at this growth.
Image Source: Unsplash
Factors that have caused a surge in veganism
Both the acceptance of veganism and the variety of products that are suitable for vegans have surged in recent years. Thanks to the efforts of creative chefs, the market is saturated with plant-based sweet dinners that are visually and gastronomically comparable to their more traditional counterparts. Currently, the market for vegan desserts is anticipated to increase from its predicted value of US$ 3205.07 Mn in 2023 to US$ 6698.4 Mn by 2033. Here's a look at factors that influence this growth-
Market demand prompts chefs to experiment with plant-based desserts
More and more chefs from around the world are experimenting with vegan desserts and developing innovative new dishes. For instance, Chef Fran Costigan, who is well-known as a pioneer in the vegan desserts business, provides consultations, cooking schools, and classes in addition to vegan dessert recipes and publications. These services are now being used by more people, which is beneficial to business. To meet the growing number of clients who have food allergies or intolerances, such as those to egg, dairy, or cholesterol, restaurants and cafés are including vegan desserts on their menus.
Ingredients such as Plant-based milks and fats are more accessible today
A rising concern for consumer health has compelled companies to include healthier ingredients to their products. As consumers become increasingly aware of the health dangers connected with this refined sweetener, examples include the widespread rejection of goods containing white sugar. As a result, producers have started using sweet potato as a substitute for sugar. Additionally, the availability and sales of vegan sweets have grown as a result of the increased accessibility of plant-based milks and fats.
Rise in usage of creative vegan food packaging
Because vegan dietary groups are often concerned with environmental issues, there is a significant need for sustainable food packaging materials for meat-free foods. Since proper product labelling is becoming increasingly important to consumers, vegan food manufacturers like Oatly now incorporate carbon labelling information on their tins and jars. Additionally, No Evil Foods Sacred Serve, an American company, is investing money to develop cutting-edge sustainable packaging for its products. Rising usage of creative vegan food packaging is anticipated, which will then spur growth.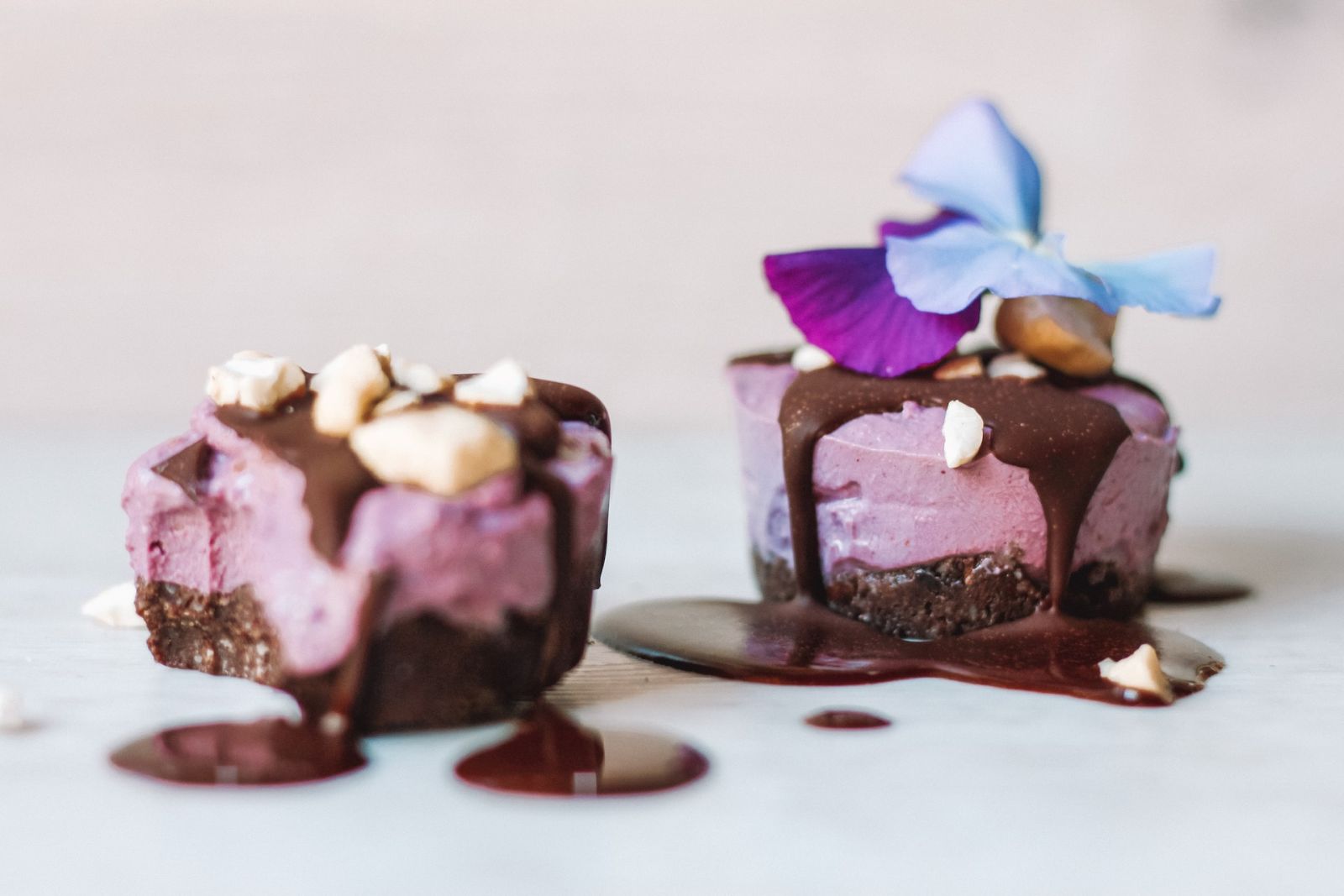 Photo by Maddi Bazzocco on Unsplash
Major points of interest:
1. European consumers are projected to make up the largest portion of the target market for vegan desserts given the significant increase in demand for bakery goods and the growing vegan trend. The market for vegan desserts is expanding as a result of the large number of travellers going through Germany, Italy, and France.
2. Vegan desserts are becoming more common on the menus of restaurants and cafés as a result of an increase in demand from clients with dietary limitations (such as egg allergies, lactose intolerance, or high cholesterol).
3. Companies like Nestle are responding to the growing demand for vegan products by launching non-dairy lines in markets like the United States, such as Haggen-Dazs ice cream.
4. Vegan milk has grown well as a result of rising customer demand.
5. Demand has increased at the same time as there has been a massive output and the launch of vegan bakery chains.
6. Manufacturers have started making vegan baked goods on a large scale due to the rapid growth in the number of vegan adherents and the rising demand for vegan bakery items.
7. An increase in demand for such products can be seen in Greggs' recent revelation of a shortage of its new vegan sausage roll offering.
8. A tremendous increase in demand for vegan baked goods has prompted the creation of vegan bakeries all around the world. Online retailers announced plans to launch a specialised vegan online baking store in 2018 after seeing the significant demand for vegan baking supplies during Great British Bake-Off Week.
9. In response to the growing demand for vegan sweets, many already-existing bakeries are launching new vegan product lines. The demand for vegan desserts is expected to rise as a result of significant investments in vegan baking businesses.
Businesses have been altering their outlook
In order to appeal to a wider range of clients, businesses have started diversifying their product offers. So, in August 2018, Unilever released its Magnum plant-based ice cream to the Swedish and Finnish markets. The company's current name is Magnum Dairy Free. Cornetto, another company owned by Unilever, also has a dairy-free ice cream option.