KUALA LUMPUR, Dec 19 — Occasionally I like to dial things back and go meatless. My newest craze is Amazon Vegan which serves plant based burgers, tacos, burritos, milkshakes and soft serve.
Recently they opened an outlet at 163 Mont Kiara, which has made it easier for me to get my fix. Previously they operated in Sri Petaling.
Their patties are fashioned from pea protein and cooked like a smash burger. You can select from ZeroBeef, ZeroLamb or ZeroChicken.
Try out the Single Smash for RM11.90 which is served with fluffy vegan buns, melted "cheese", vegan mayo, caramelised onion, bell pepper, sauteed mushroom, tomato slices and fresh lettuce.
The ZeroBeef tastes similar to the meat version while their vegan mayo is a little piquant to uplift the burger taste. When paired with those soft buns, it makes a nice light meal.
If you cannot decide which 'protein' you want to try, go for The Little Vegans that offer three types of 'proteins' to sample.
On the menu, you can order a Double Smash for RM14.90 or their Quarter Pounder for RM15.90, for a bigger portion. If you're undecided on which "protein" to select, there's The Little Vegans (RM24.90)or small burgers that showcase ZeroBeef, ZeroLamb and ZeroChicken. You also have variations of the patties with curry powder and Korean sweet pepper spice.
For the sides, a must-eat is their skin on fries for RM5. Or if you want a sugar-free soda drink and regular fries, go for the set for RM5.90. The fries are fluffy and delicious. I don't usually finish up fries that come with burgers but I make an exception here. Maybe it's because the plant based burger doesn't leave me feeling so heavy that I can enjoy the fries.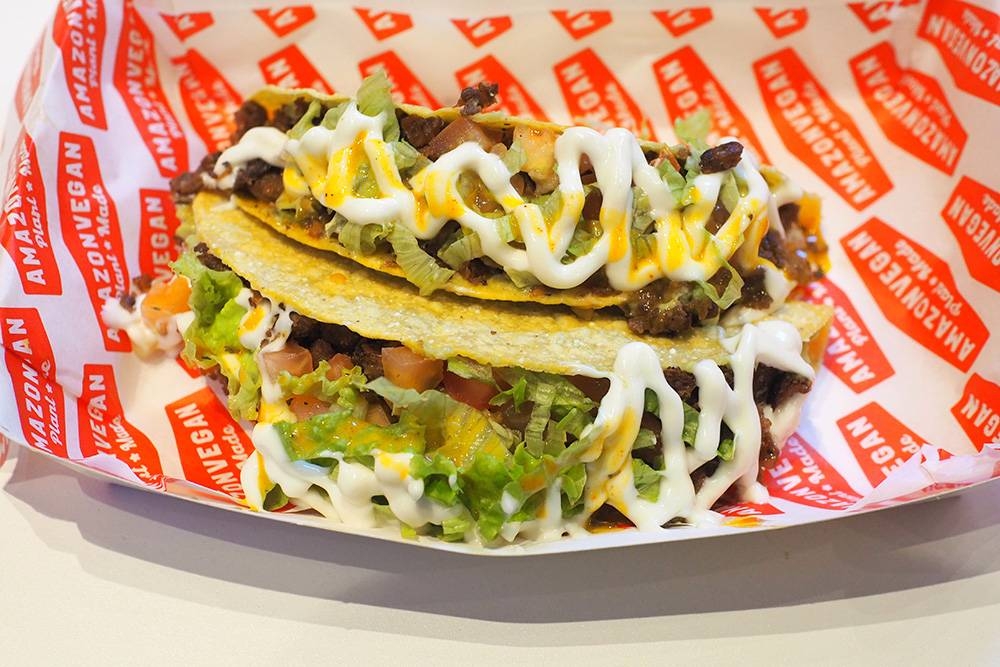 There are delicious tacos which are well stuffed with minced 'protein', guacamole, vegan 'cheese' and drizzled with vegan mayo.
You can also select from other sets like a hot drink or regular fries for RM6.90 or indulge in a milkshake and regular fries for RM16.90. There's also an option to upscale the portion of your fries.
For me, the taste of their plant based burgers bears a close resemblance to Shake Shack. Even the design of the packaging and the way they serve the burger, fries and drink on a tray covered with paper is similar to the popular US burger chain.
Out of the three "proteins" offered there, the ZeroBeef is what I prefer. If you want a stronger taste, the ZeroLamb may be better for you. Even though the ZeroChicken is milder in taste, I found it a tad salty for my liking.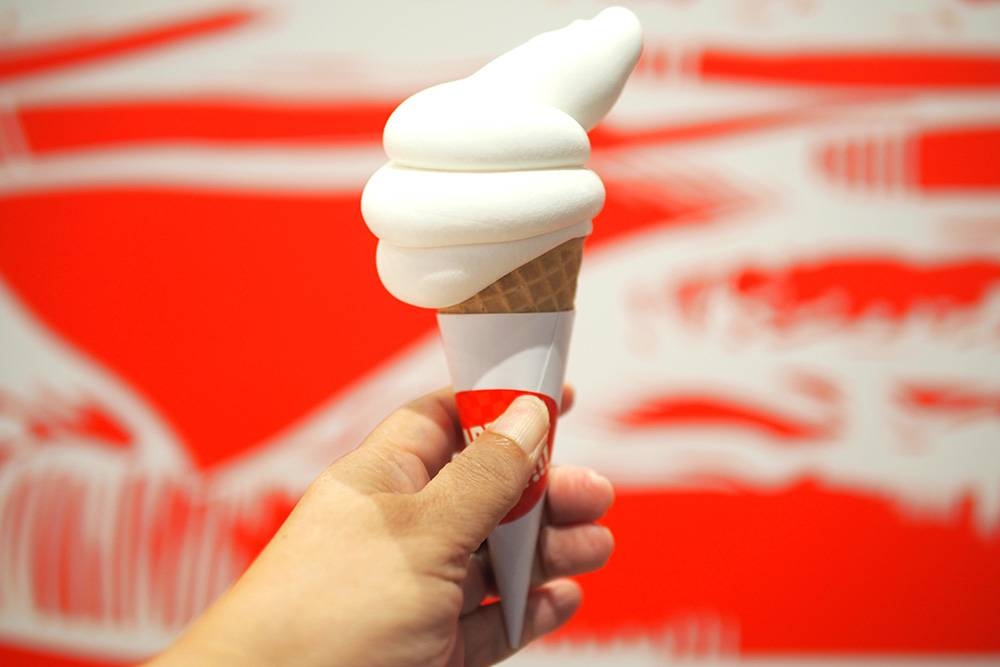 My secret indulgence here is the dairy free and sugar free soft serve.
If you're not a fan of burgers, they also have a Mexican menu. I tried the Tacos Double (RM17.90) which was incredibly satisfying. They use hardshell tacos that are well stuffed with your choice of "protein", creamy guacamole, melted "cheese" and vegan mayo. It's best to eat this quickly as it tends to get soft quickly since they generously stuff it with lots of guacamole.
I'm a big ice cream fan. Hence one big attraction of Amazon Vegan has been their soft serve that is dairy free and sugar free for RM2.99. You still get the creamy taste with what I feel is a less sweet taste.
Somehow it feels less guilty and it's that treat I look forward to after my vegan burger here. There's two flavours, vanilla and coconut. Both flavours are not strong yet natural and unlike the artificial flavours you usually get. Personally I prefer the coconut one.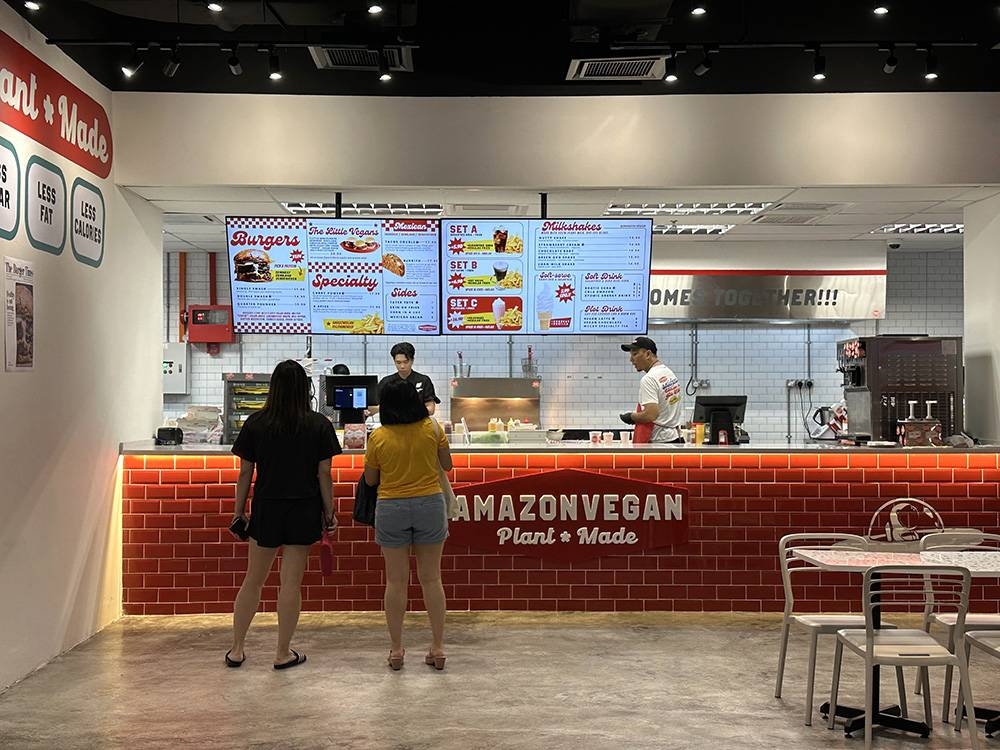 Order from the counter where you can also see them cooking in their open kitchen.
They also serve five varieties of milkshakes made from 100 per cent plant milk which are pretty good too. You have a peanut butter and malt flavour, strawberry, Belgian chocolate and more unusual smooth avocado with coconut milk or a sweet corn version with pea milk. I sampled their Strawberry Cream (RM14.90) which has a distinct taste of strawberries and as promised, you don't feel bloated after drinking it. However I kinda prefer a thicker consistency for my milkshake which seems to be slightly lacking here.
Keeping to the healthier promise, the sodas are sugar free and zero calorie so you have their version of root beer and cola. You will notice the drinks are less fizzy too. There are also hot drinks like vegan latte, vegan chocolate and specialty tea.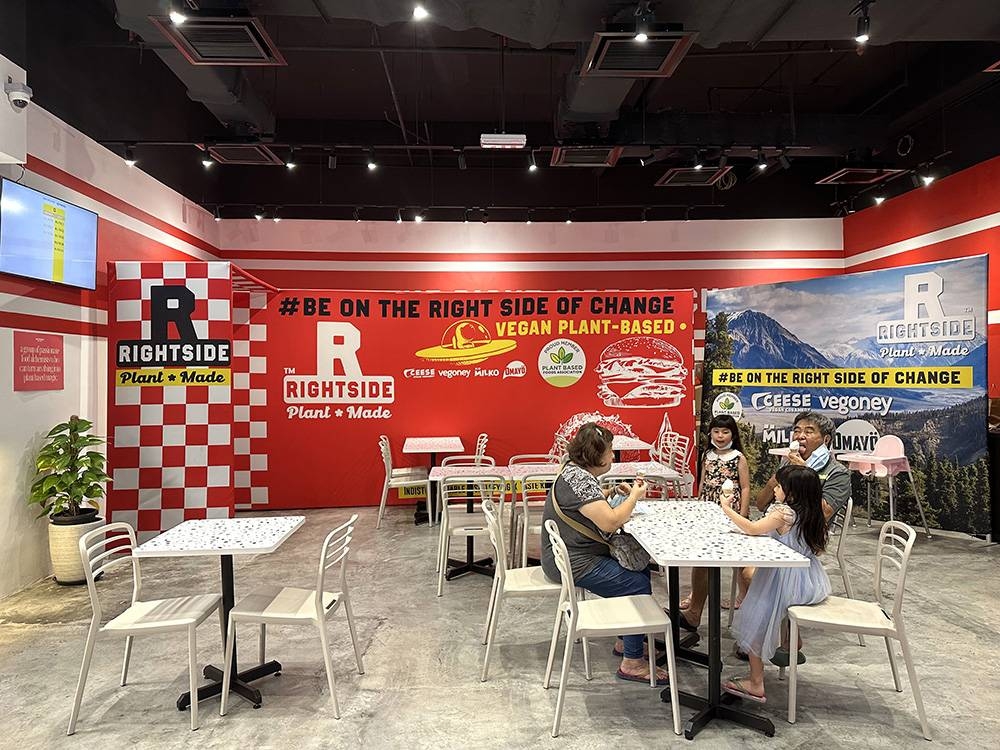 Even children enjoy the soft serve that is dairy free and sugar free.
As word has gotten around about the place, you can spy gym goers or even families patronising the place. I even spotted children enjoying the soft serve, so I guess it's passed the litmus test even though it's dairy free.
Give it a try on days you want to go meatless!
If you're not familiar with the mall, they are located at a corner lot which is right opposite Madam Kwan's and nearer to the lifts.
Amazon Vegan. GF-02, Ground Floor, 163 Retail Park, Jalan Kiara, Mont Kiara, Kuala Lumpur. Open daily: 11am to 10pm. Facebook: @amazon.vegan
* Follow us on Instagram @eatdrinkmm for more food gems