Increasing numbers of people are switching to a plant-based lifestyle, reducing consumption of meat and animal products. Though this can be beneficial for one's personal health, it also helps combat climate change, and is a great way to show care for animals. People can often be deterred from going vegetarian or vegan due to the stigma that plant-based food does not taste good in comparison to meat. 
With Gen Z becoming plant-based more quickly than other generations, it's essential for a college campus to have vegetarian and vegan options nearby. These three vegan restaurants near Orange Coast College range from fast food to a fancier sit-down, all tasty enough to enjoy with friends without feeling like you are missing out on meat.
OCC students are fortunate to have a Native Foods Cafe right in Costa Mesa.  because it's the perfect spot for a quick vegan lunch or snack between classes. Native Foods Cafe, originating in Palm Springs, has spread out to Oregon, Illinois, Colorado, and various other locations in California. 
I tried the Chicken, bacon, and avo club because those were my favorite type of sandwiches before becoming vegetarian. Almost everywhere has a Beyond Burger or some type of beef alternative, but this option is more unique and caters to plant-based people who want something chicken-inspired. 
It was genuinely the best alternative meat sandwich I have ever tried. The "chicken" was super crispy, and I would not have known it was plant-based if no one told me. Granted, I have not had actual chicken in years, but I feel confident in saying that it's a really solid replica. It comes with chipotle sauce and loads of vegetable toppings, making it so tall I had a hard time eating it gracefully. The included side of fries were crunchy and seasoned really nicely as well. 
In comparison, the Cauliflower dippers and the Thai chili sauce were not my favorite. They were a little too sweet, which overpowered the flavor of the cauliflower. However, I was impressed with how well the vegan ranch balanced it out. This is somewhat of a personal preference, so if you have a sweet tooth but want a veggie option, I recommend this appetizer.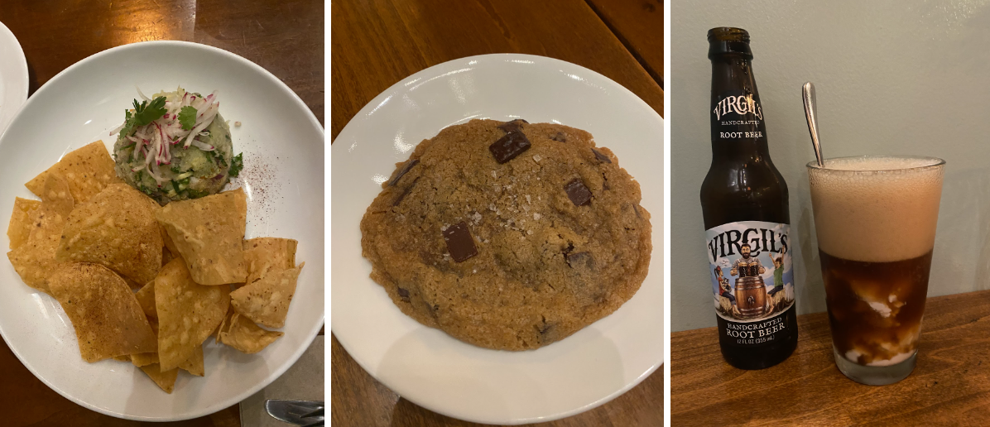 As a long-time vegetarian, Seabirds has been my favorite spot for years. Since I'm reviewing predominantly entrees for Native Foods and Gracias Madre, I wanted to show off a couple of Seabirds' unique appetizers and desserts. It's a casual sit-down restaurant with locations in Costa Mesa, Long Beach and Los Angeles with indoor and outdoor seating.
The Ceviche, made with cauliflower and avocado, was my favorite dip I've ever tried. It was almost like a limey guacamole but with more texture, which I really enjoyed. It came with tortilla chips, which had a really nice crunch, making this a perfect appetizer. I highly recommend this one. 
I was inclined to try the Chocolate chip cookie because it is vegan, gluten free, soy free and nut free – super inclusive for so many types of dietary restrictions that may typically prevent people from enjoying a cookie. 
I wouldn't say it was my favorite cookie of all time, the texture was a little grainy, but all things considered with how many typical cookie ingredients are not used, it was pretty good and had a nice flavor balanced by flaky sea salt and semi-sweet chocolate chips. It's definitely a nice option for those who usually don't get to have cookies when they go out due to dairy or gluten restrictions. 
Lastly, I tried the root beer float, which I was also immediately curious about because of the ice cream. It is made with vegan vanilla ice cream, perfect for any dairy-free people looking for an icy treat. I'm not generally the biggest fan of soda, so I was not crazy about this dessert, but it's definitely a solid vegan alternative for a root beer float. Bonus points for the presentation: the ice cream came in a glass with a bottle of root beer on the side, which was really cute.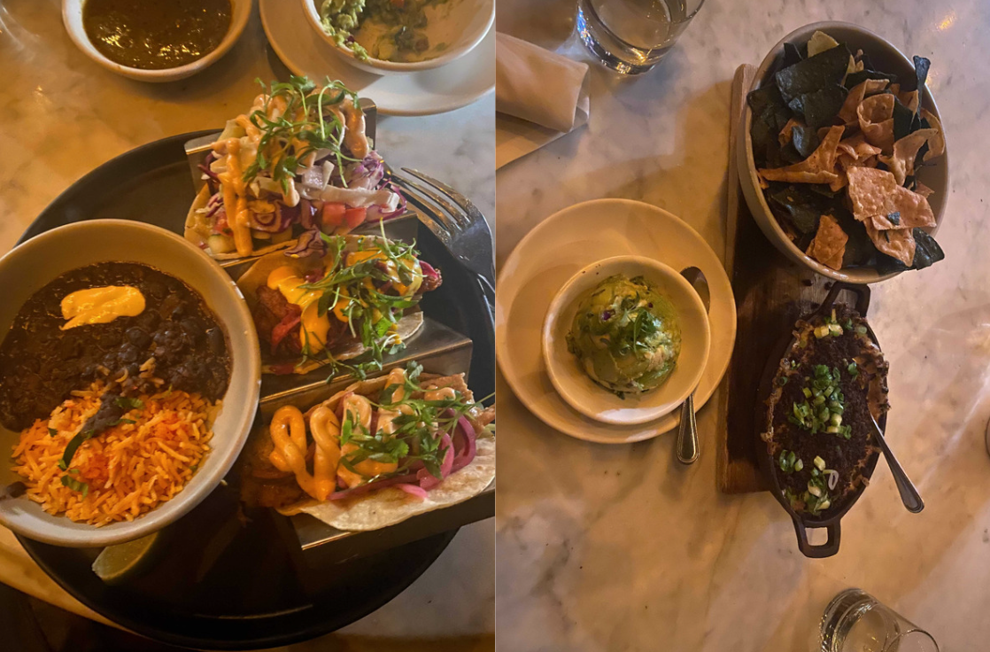 Gracias Madre is in Newport Beach, which borders Costa Mesa, but this fancy little sit-down restaurant is worth the drive. I came here for the cutest dinner with a friend under Gracias Madre's enclosed patio and it felt like a vacation. The atmosphere was the best out of any restaurant I have ever been to.
We started our night with the Queso Fundido appetizer and added guacamole – both these dips were fantastic. I don't typically like vegan cheese alternatives, and honestly rarely choose queso over other dips to begin with. However, this cashew portobello queso changed my mindset entirely. It came with soy chorizo on top, creating a nice texture, and had such a vibrant flavor. The guacamole was a nice cooling contrast. It tasted really fresh and it really let the earthy avocado and veggie flavors shine. This was served with chips and salsa, which were both great as well. 
For the sake of trying new things, I chose their Taco Flight as my entree, with a Coconut taco, a Mushroom taco and a Parm pastor taco. I was a little intimidated by the concept of a coconut taco, but it ended up being my favorite of the three. It was topped with Mexican kimchee which I really liked, and a carrot slaw. It was flavorful without being too intense or salty, and the texture of the coconut was amazing. 
The mushroom taco was very good as well – I am typically a mushroom fan, and was not surprised to like this dish. It was topped with cabbage slaw and chipotle aioli, which brought a little kick to the typically mild mushrooms.
The parm pastor taco was my personal least favorite of the three, but I think someone who is a little more cheese-oriented might enjoy it more. To me, parmesan cheese on a taco felt out of place, but nonetheless was still unique and tasty. The taco flight was served with rice and black beans on the side, which I also really liked.
Reservations for Gracias Madre are available through its website.