We use affiliate links. If you buy something through the links on this page, we may earn a commission at no cost to you. Learn more.
REVIEW – We have all noticed that our portable screens have been getting slimmer. Part of this is the removal of optical and floppy drives and part is due to fewer ports, which tend to need more device thickness to support properly. Most of us only need our main screen, maybe a phone, and some other small items when we're going into client meetings or just stopping into a coffee shop for some email triage. For that, a flat folio is a nice solution, and Mujjo has produced the Envoy vegan leather laptop sleeve to meet that need. I was sent the 14" model in navy blue to review, so let's take a closer look.
What is it?
The Mujjo Envoy is a vegan leather folio designed to hold laptops, tablets, and things.

Specifications
From manufacturer website
For 14-inch MacBook Pro.

Waterproof vegan leather.

Magnetic opening combines fast access with security.

Side opening for easy in-sleeve charging.

Elastic pocket keeps your phone secure when you're on the move.

Magnetic side-opening expands to hold larger items, when empty it keeps the sleeve slim.

Easy access slip pocket for a notebook or passport.
Design and features
The Mujjo Envoy vegan leather laptop sleeve is a flat faux-leather envelope with a covered spring steel top closure and several pockets on either side. There are two models, 14" and 16", which come in either black or navy. (The navy is very, very dark! Until I photographed it against my iPad Smart Keyboard (above), I thought it was black.) The one I was sent measures 14″ x 10.5″. This puts the diagonal measurement at 17″, which is overkill for a 14″ laptop, no matter the thickness. And we all know Apple is not known for thick laptops, right? Other than the dimensions, there doesn't seem to be a difference between the two sizes.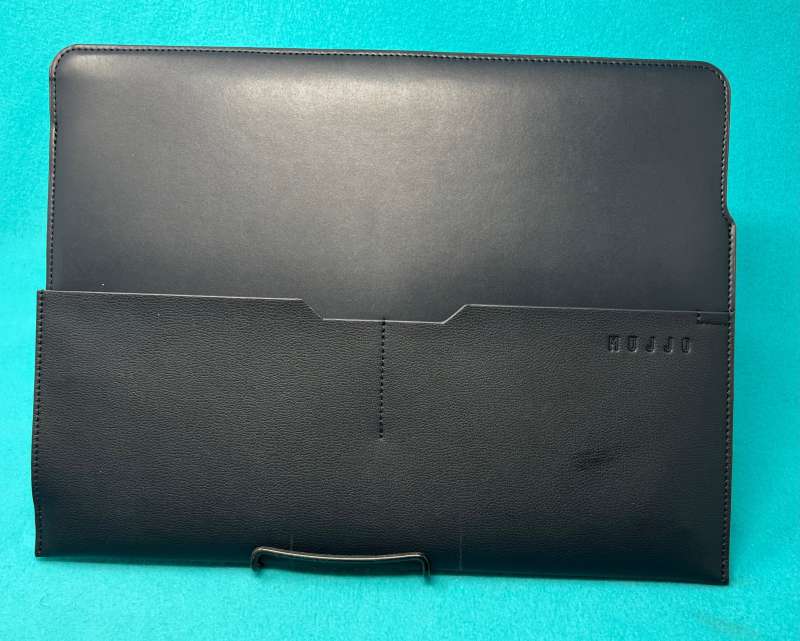 One side of the Mujjo Envoy has a single larger pocket (8″ opening) that will accommodate a small tablet (either my Kindle Paperwhite or my iPad mini can fit, but the iPad sticks out a few millimeters – see below) or paperwork like boarding passes, passports, flyers, etc.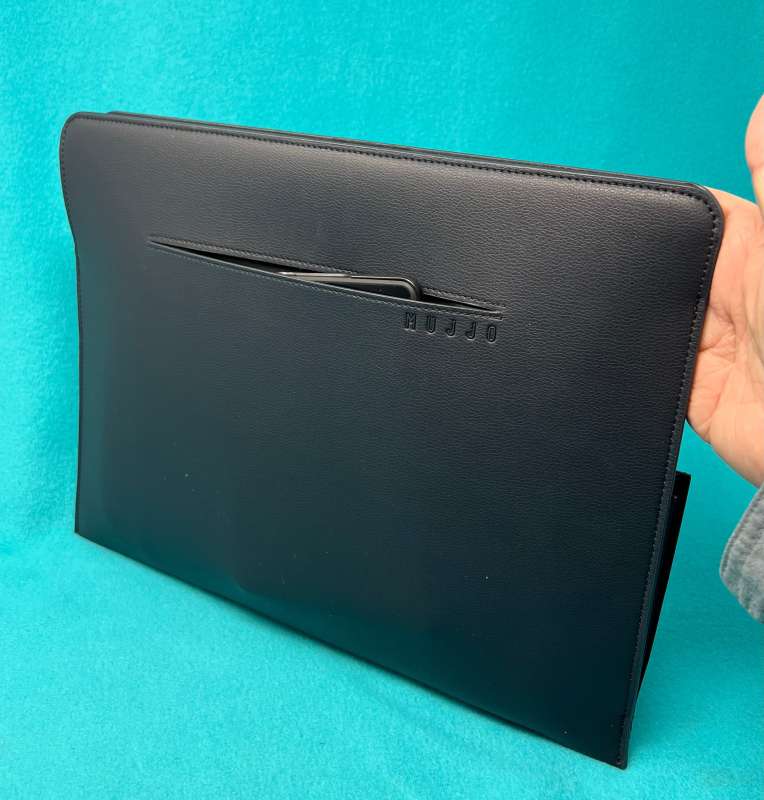 The other side has two pockets that each occupy half of the lower area (7″ width each). Each one has its own superpower, however. One has a gusset on the outer edge that allows it to hold slightly thicker items, like a charger or a slim power bank. The other has a loop sleeve inside which can be used to contain your business cards while also providing room for your phone. I can put my iPhone 13 Pro Max into the loop (with the MonoCarbon case), but it is quite a bit of work extracting it afterward. If you have a smaller phone or lesser case, your mileage may vary.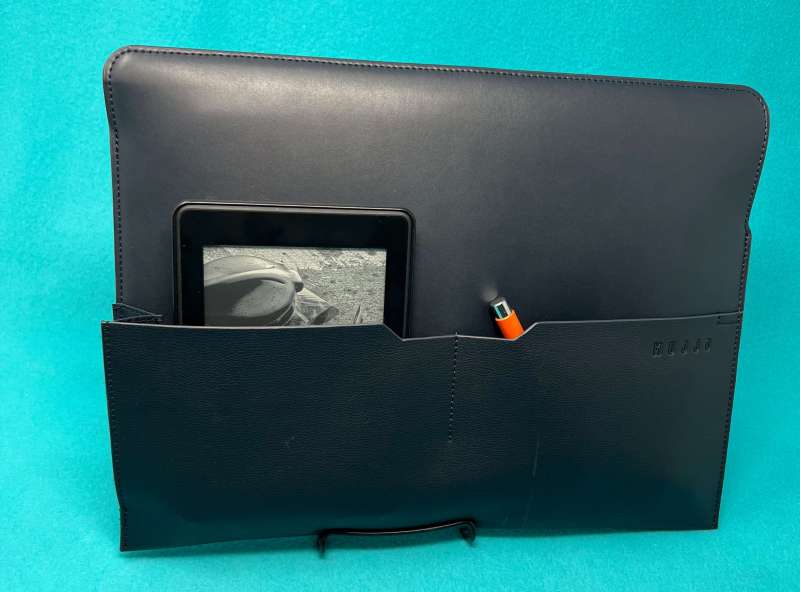 The main pocket of the Mujjo Envoy vegan leather laptop sleeve is the full depth and width of the sleeve, with about a quarter-inch of flex. One top edge has a gap of about 2.5" to allow for in-place charging, while the other only has a gap the width of the steel spring inside the lip. Magnets along the lip snap the case closed and hold your belongings tightly inside.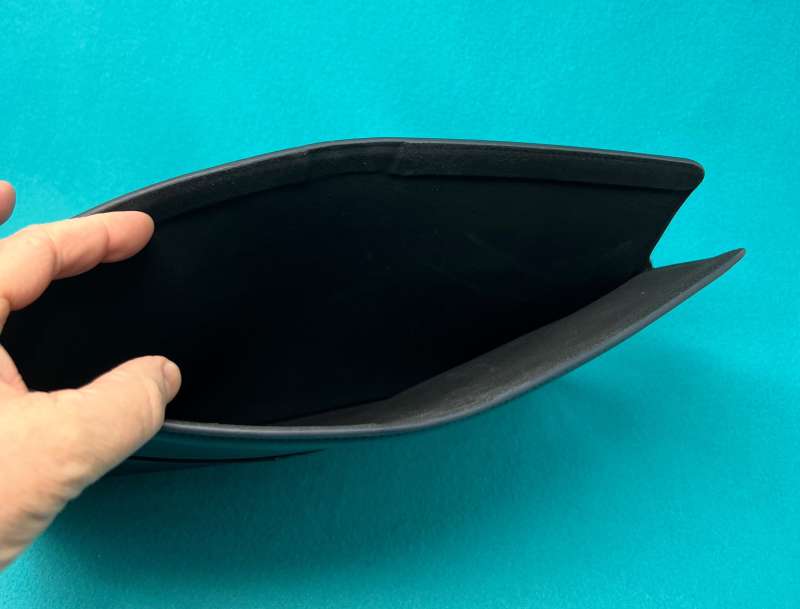 The insides of each of the four pockets are lined with a felted material and slightly padded. It's not going to offer any real impact protection but will keep things together in your bag or under your arm as you travel.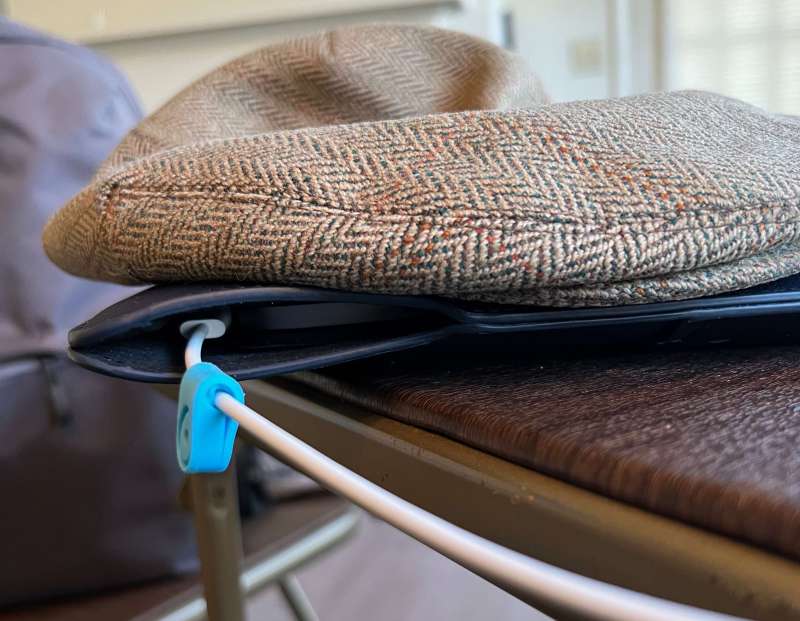 I used the Mujjo Envoy together with my iPad Pro 12.9" and a Magic Keyboard, which rivals the form factor of a 13" MacBook Air. Since the Envoy is designed for the 14" MacBook Pro, there was a bit of room, but it was still very protective. I stopped by my local Apple Store and gave it a quick fitting with their demo 14" MBP and it fit nicely, even with the security top hat in place.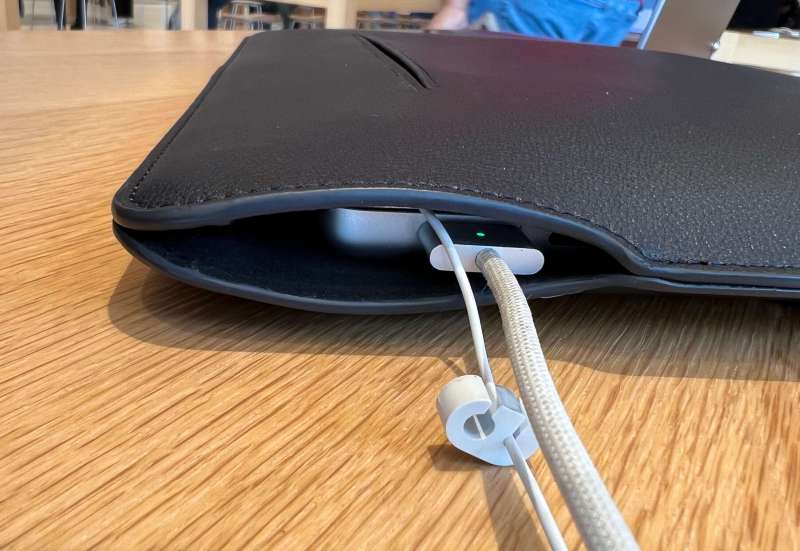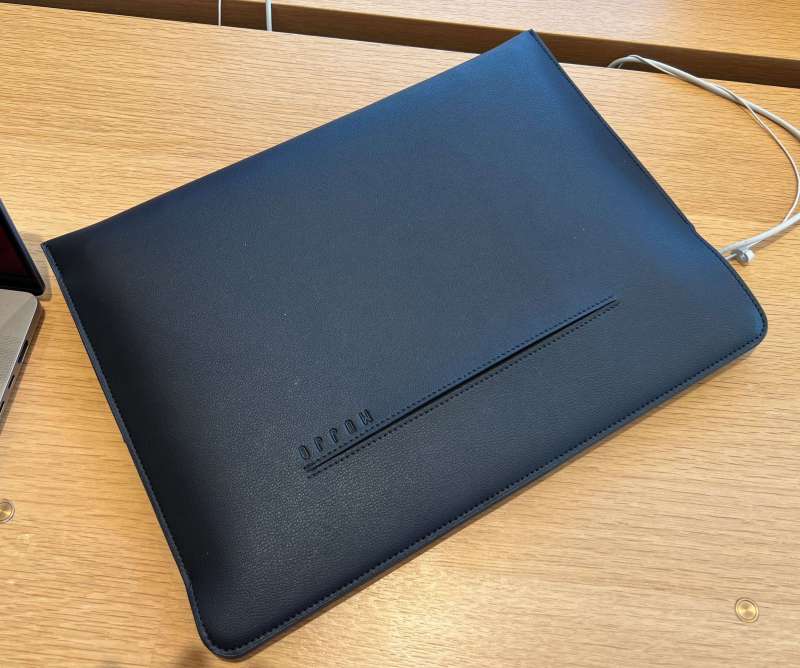 What I like
Very soft feel to materials
Thoughtful pocket sizes
The stitching is tight and neat
What I'd change
Final thoughts
Portage is a constant concern for Gadgeteers. Getting things from home base to where we want to work with them, intact and easily accessible along the way is the task of this folio sleeve. The Mujjo Envoy vegan leather laptop sleeve is able to contain just enough without running off the rails and tempting you to pack in every dongle you own. It is well-made and looks very stylish.
Price: $95
Where to buy: Mujjo website
Source: The sample of this product was provided by Mujjo.