Need a bit of holiday cheer? Just pop over to Fazio's chocolate shop, 13425 Watertown Plank Rd. in Elm Grove, where the holiday spirit is so plentiful it leaks right out of the door and onto the sidewalk.

From glittery garlands and oversized wrapped gifts to an artificial fireplace and velvet chair that's begging to be the backdrop for an Instagrammable holiday moment, the exterior of the shop beckons with Christmas cheer.

And that continues as you step inside, where you'll be greeted by friendly faces and surrounded by cases of beautiful chocolates, holiday decor and a sizable display of pieces from the Department 56 Christmas Villages collection.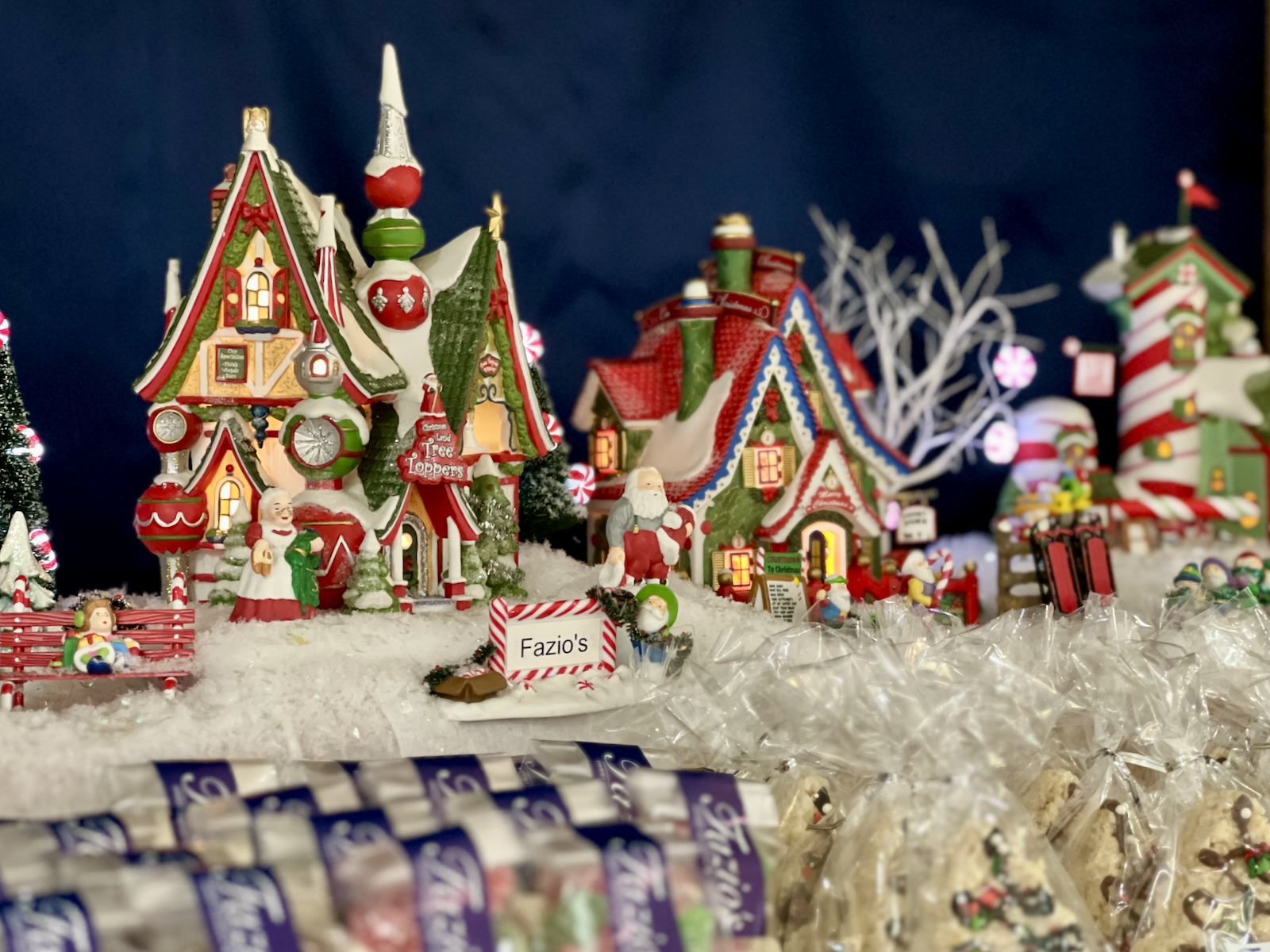 Chocolatier Cindy Karrels fell in love with chocolate work during a class in the baking and pastry arts program at MATC where she'd enrolled with the hope of gleaning inspiration for a new career in the food world.

For years, she'd worked as a flight attendant for Midwest Connect. But when the local airline was bought out by AirTran, she decided it was time for a change. So, she enrolled in culinary school, working part-time in local restaurants to make ends meet.

"I learned a great deal working in restaurants," she says, "But I really gravitated towards pastry. In fact, when we began studying chocolate, I knew it was over. I had found my calling."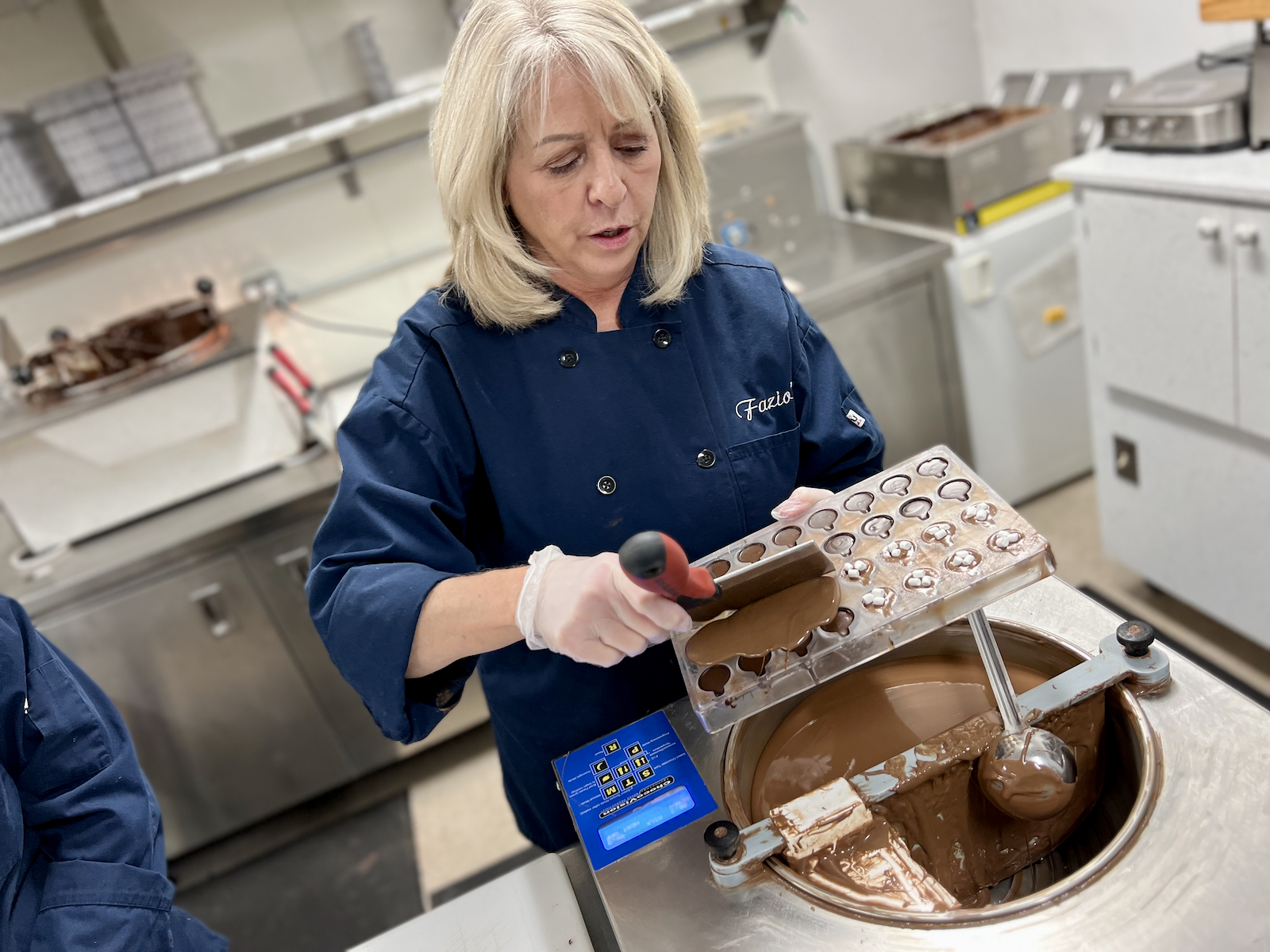 But her education didn't stop after she opened her shop in November of 2013. In fact, Karrels continued to hone her craft through classes at the French Pastry School and Chocolate Academy in Chicago. Even ten years later, she has continued to keep up with evolving trends and tastes in chocolate, including the growing demand for dairy-free and plant based chocolates.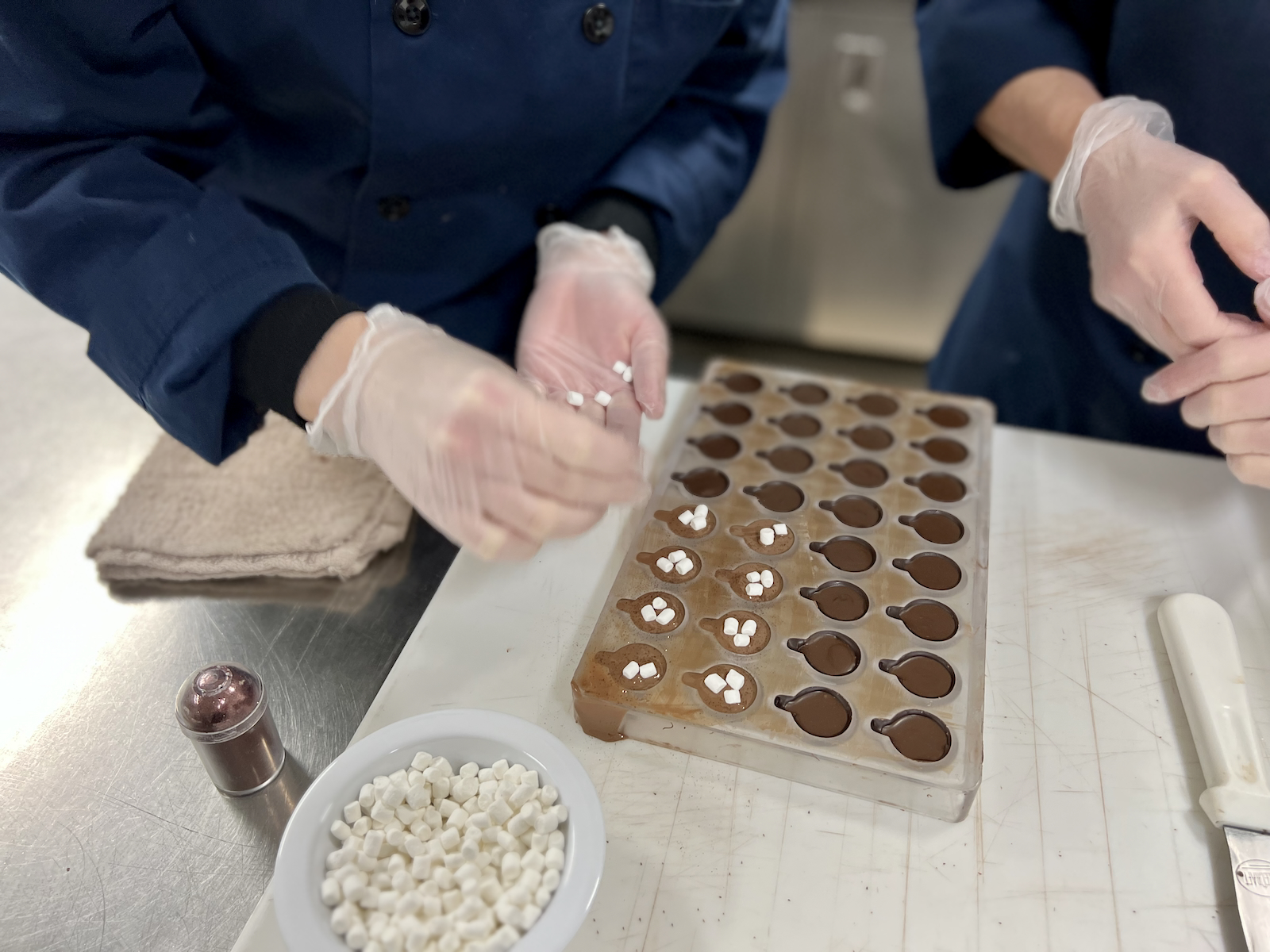 Last fall, she released an entirely new line of vegan chocolates – made with coconut, rather than dairy – featuring seven distinctive flavors, from Peanut Butter Bliss and Orange Meltaway to a Chai Tea Truffle that delivers on its promise of warm, vibrant spices and deep dark chocolate flavor.

Take a look in a box of vegan chocolates and you'll find lovely shapes, artful decorations and – most importantly – the same full flavored chocolate you'd expect from Fazio's.

That includes (top row in box below): Orange Meltaway (orange ganache in a dark chocolate shell); Hidden Gem (layers of berry and chocolate ganache in a dark chocolate shell); Cocoa Pod Crisp (Krispies in a dark chocolate shell); Vegans Rock (chocolate meltaway ganache in a dark chocolate shell);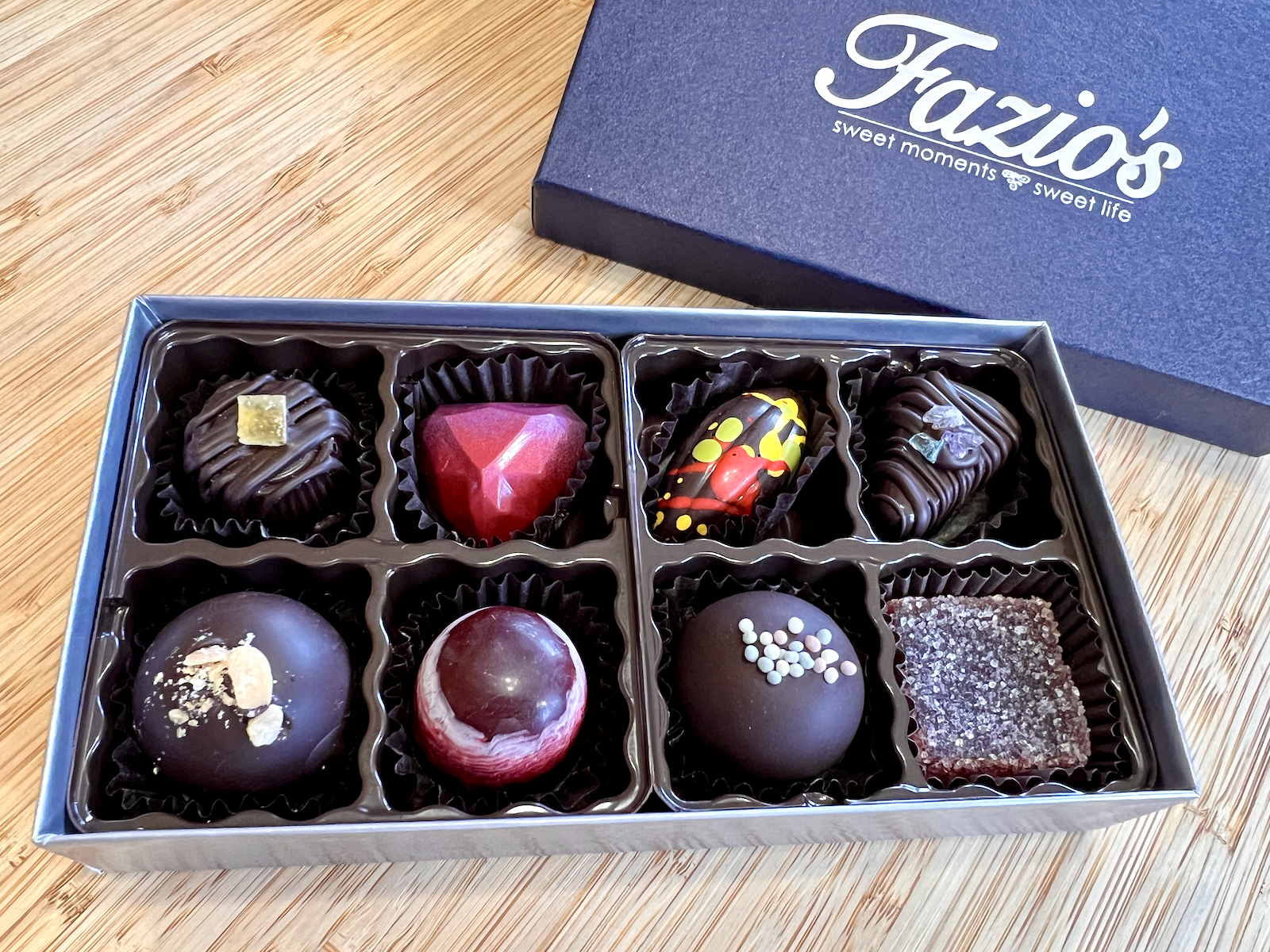 Bottom row in box above: Peanut Butter Bliss (peanut butter ganache in a dark chocolate shell); Berry Cookie Crunch (berry ganache and chocolate cookie in a dark chocolate shell); Chai Tea Truffle (masala chai in a dark chocolate shell); Merry & Bright (pâte de fruits with red wine, cinnamon and citrus).

This year, she added another offering to the line-up: a creative take on the traditional French pâte de fruits, a beautiful, intensely fruity confection made from fruit puree and gelatin that possesses a balanced sweetness and a texture that's firm, but not gummy or chewy.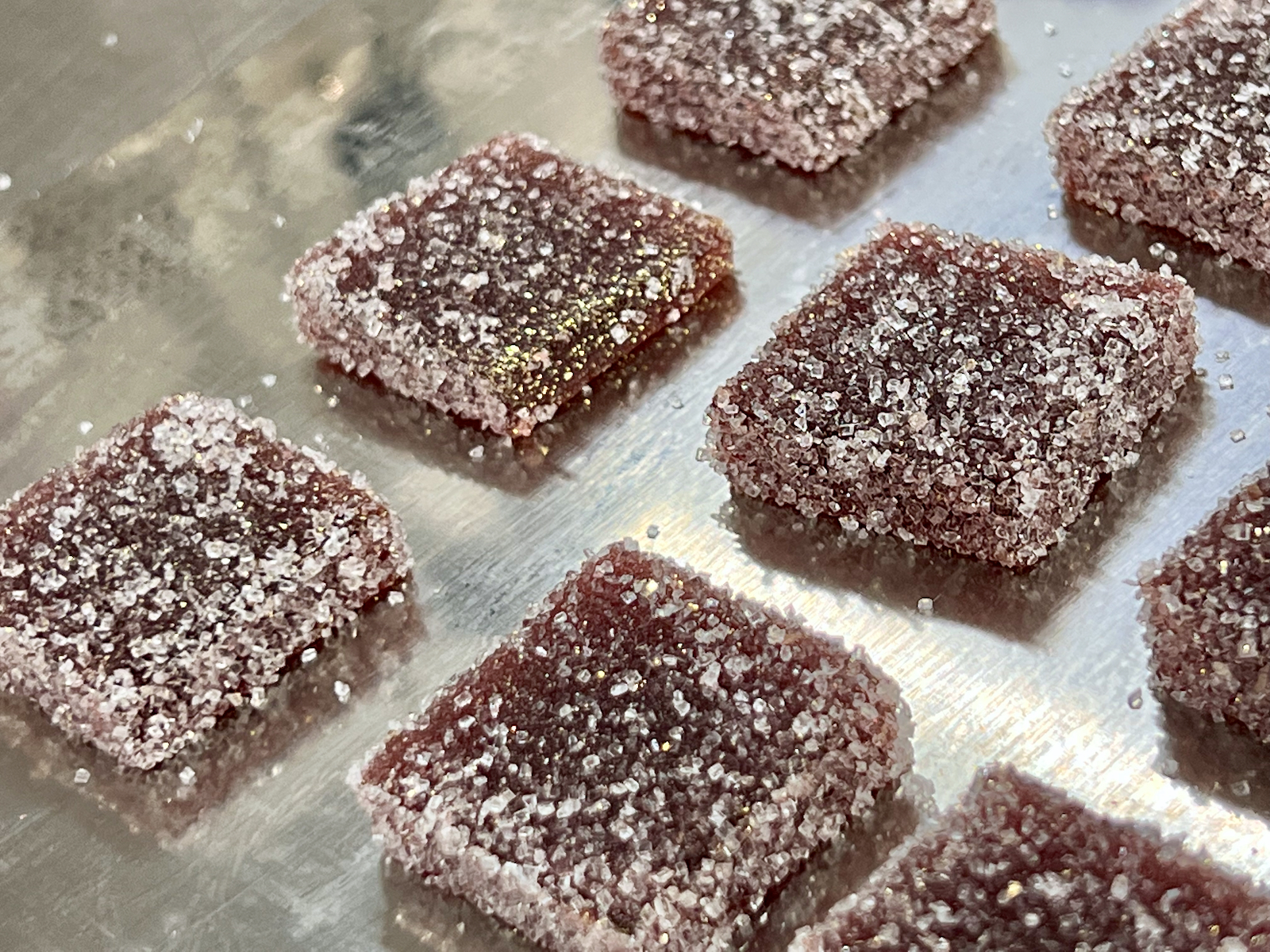 Karrel's vegan version uses pectin rather than gelatin and presents as a beautiful holiday treat that melds the flavors of red wine, oranges, cinnamon and hand-zested citrus fruits into a beautifully balanced treat with a flavor not unlike sangria or mulled wine.  The candies are hand-tossed in sanding sugar along with a touch of glitter that gives them a pleasant sparkle.

Creating new items is part of the joy of the business, says Karrels, who says that the process of working with chocolate marries two of her longtime passions: food and art.

"I love the art of it," she says. "I love making things look like what they taste like. And I love being able to express my whimsical side."

That whimsy plays out in countless chocolates like Up on the Housetop, a gem of a treat featuring gingerbread cookie ganache enclosed in a milk chocolate shell that's shaped like a snow-covered roof. A smidge of glitter on top brings all the magic.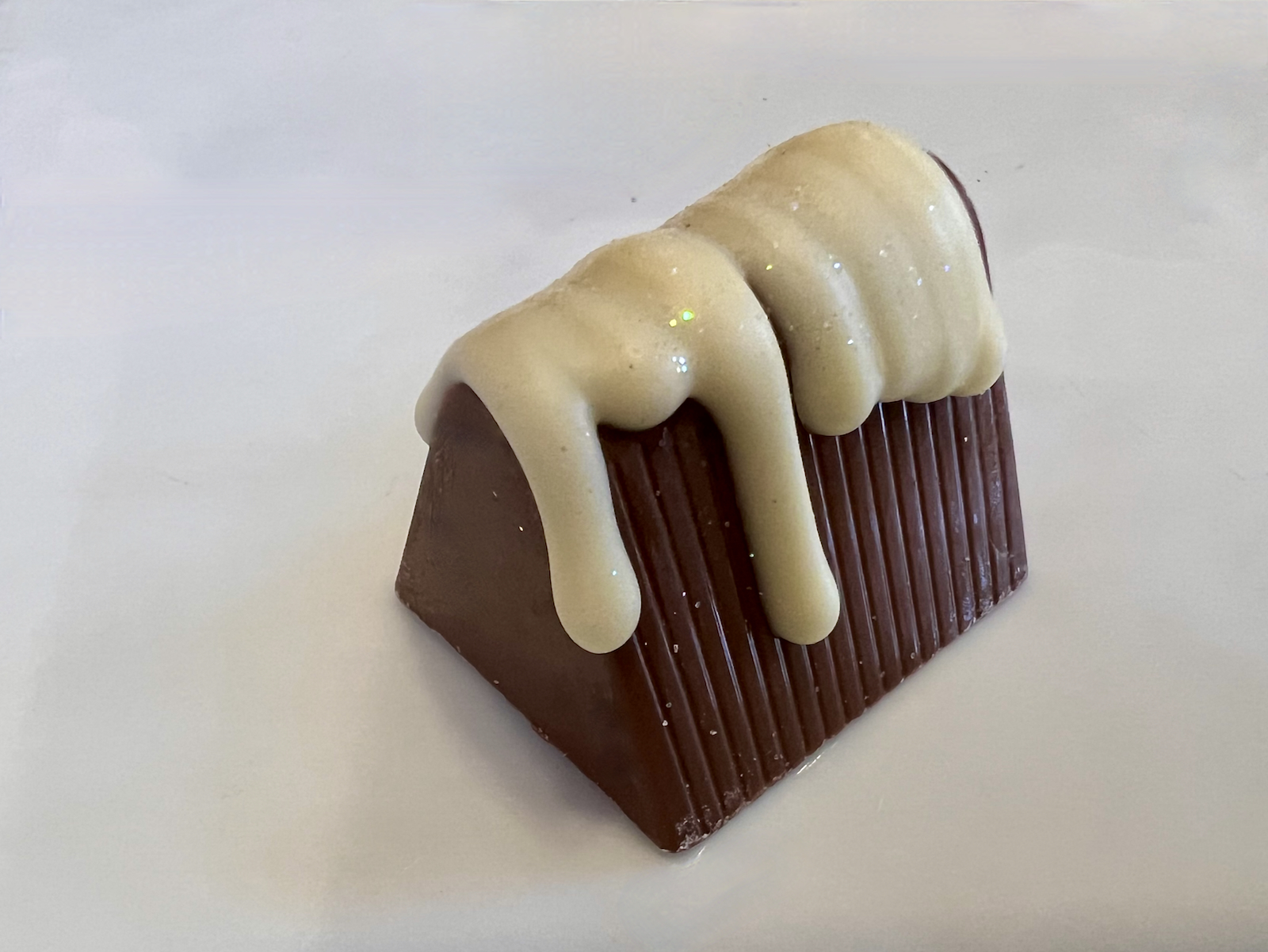 But then there's her Cup of Cheer, a chocolate devised to both look and taste exactly like a cup of hot chocolate.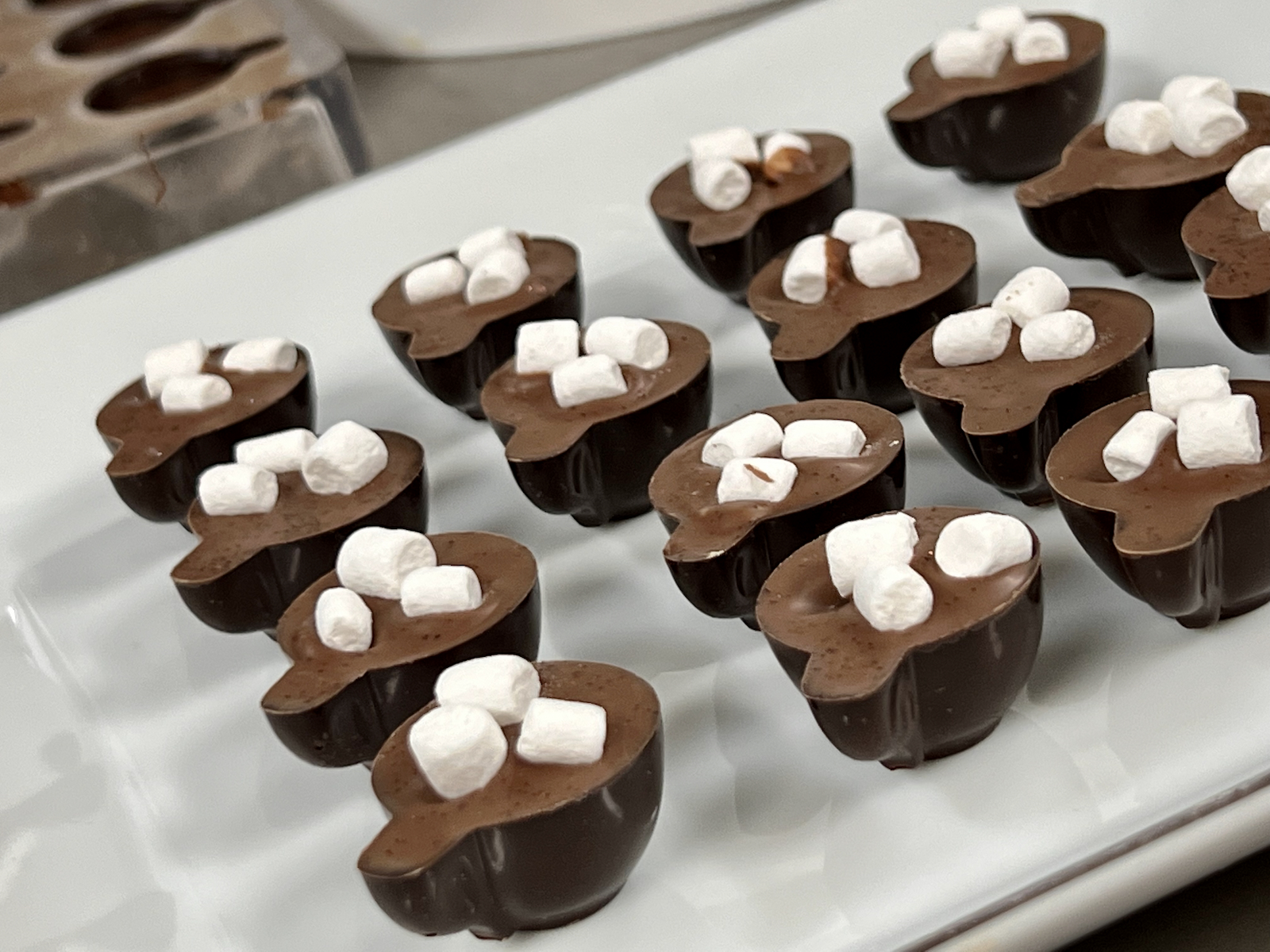 It begins with a hand-poured dark chocolate bottom shell that's filled with hot chocolate ganache and topped with milk chocolate, glitter and mini marshmallows. It's a perfect treat for the child in each and every one of us.

Prefer an adult beverage? Try the Cheers from Wisconsin, a chocolate inspired by the state's favorite cocktail, the old fashioned.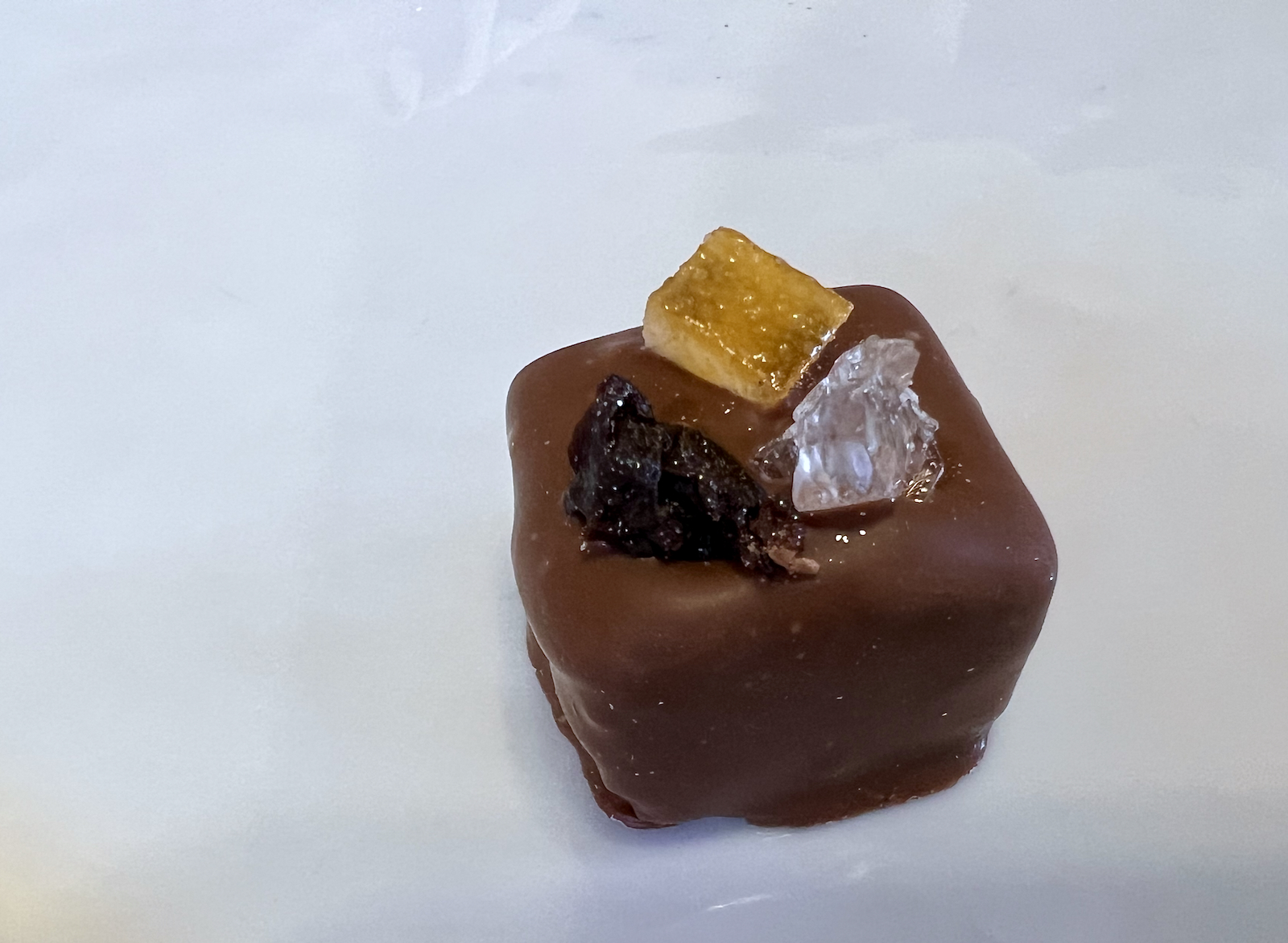 Bourbon and orange ganache is layered with bits of dried cherry, encased in a milk chocolate shell and topped with orange peel, dried cherry and rock candy (think muddled fruit and ice cubes). 
Looking for something more elegant?  Meet the Midnight Dream featuring rich French cocoa nougat enrobed in a dark chocolate shell embellished with silver crystal sugar.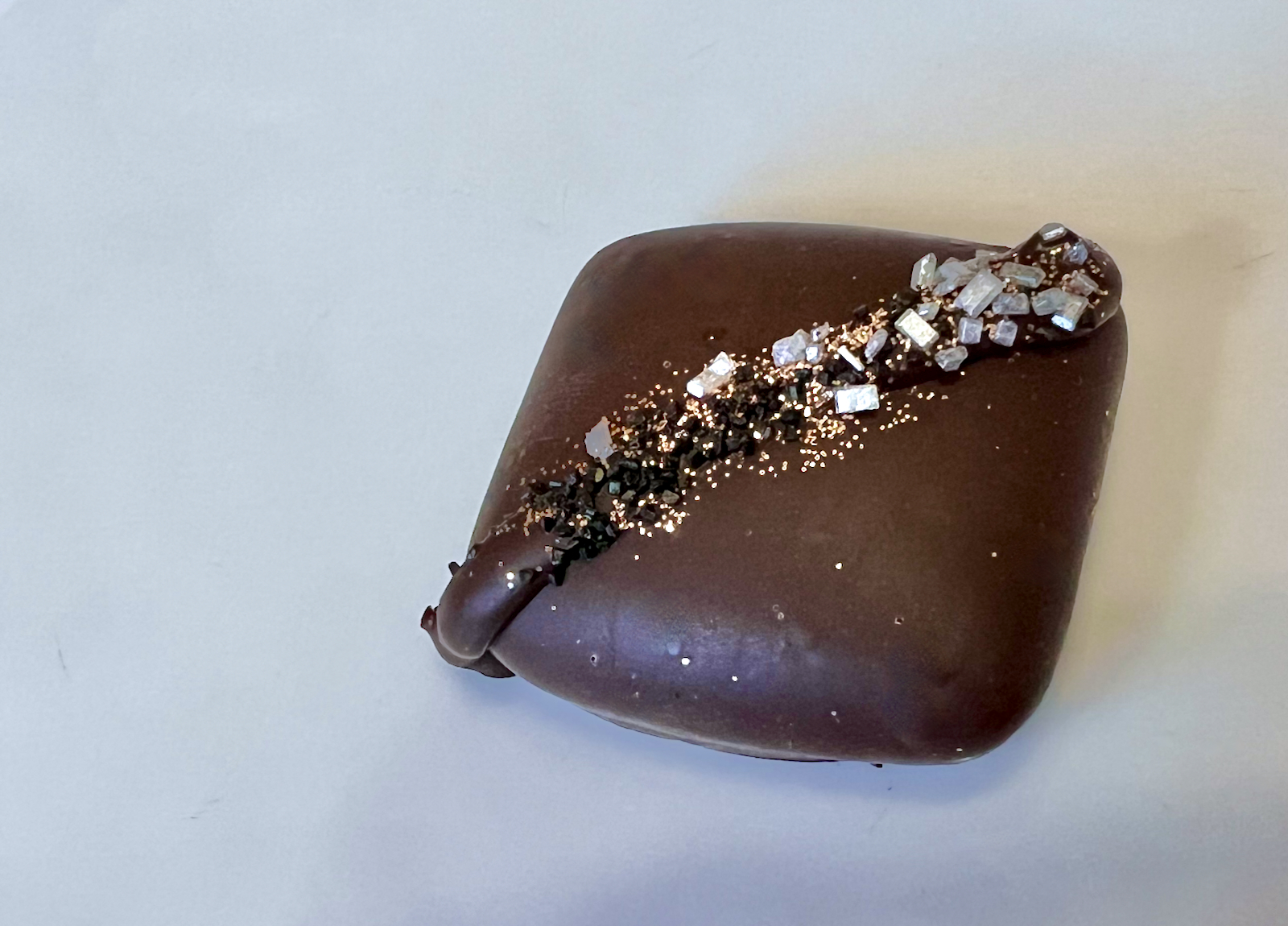 It's an eye-catching chocolate that would be perfect served at a New Year's Eve bash.

Ultimately, Karrels creativity is evident across her artisan line and beyond as she delivers on a wide range of flavors including bright and fruity, crisp and nutty, rich and buttery or dark and decadent. There's truly a combination of chocolates for anyone.

It's been nearly 10 years since Karrels opened up her shop in Elm Grove. Today, she runs the business alongside her husband, Mark, with a team of four additional employees who assist her in making the shop's collection of classic and artisanal sweets.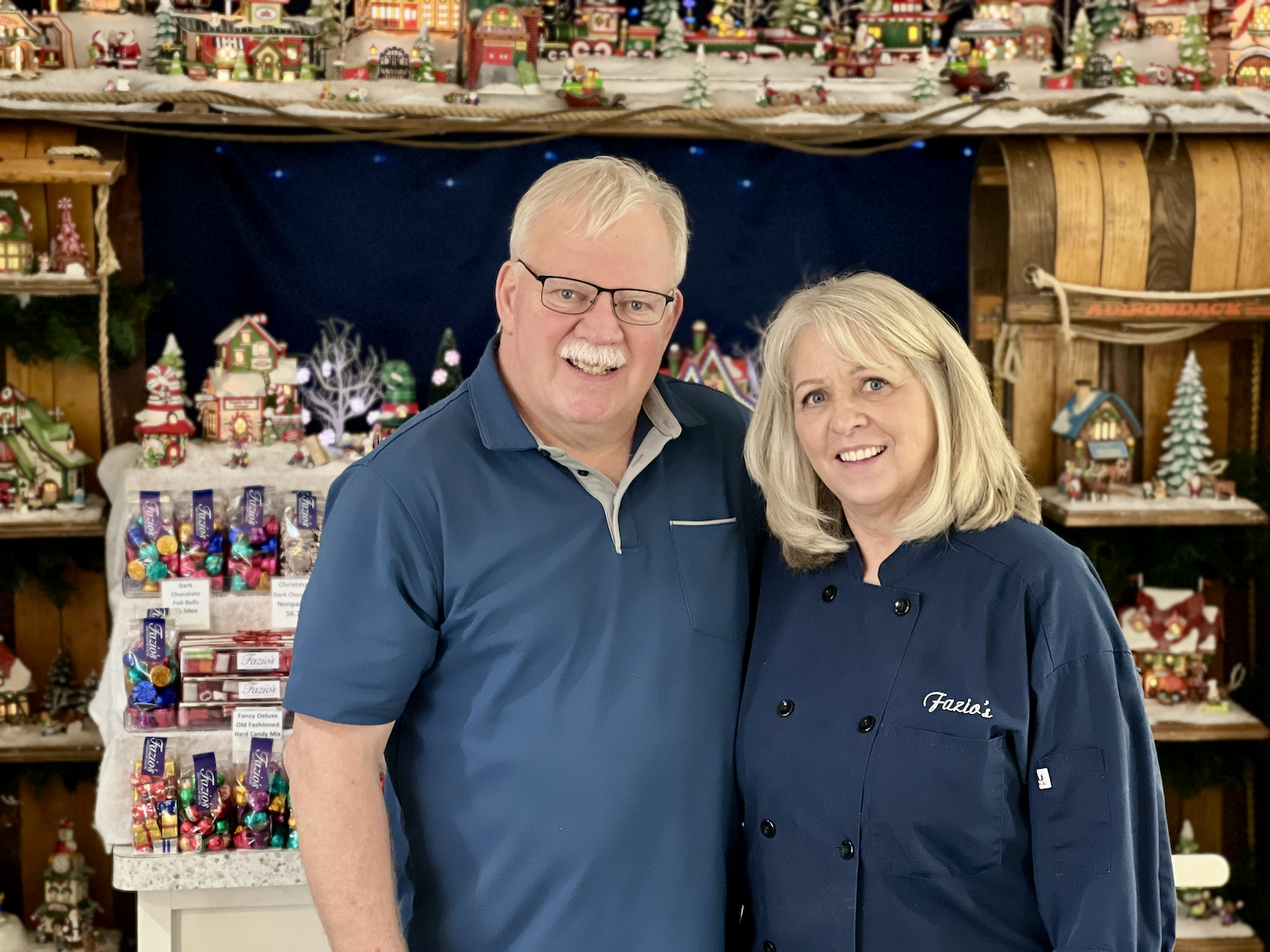 She says she still takes pleasure from the creative process and working together with her employees to create new offerings. But, she admits that the true joy of her work is seeing the impact that her creations have on her customers.

"I love it when customers stop by during the holiday season," she says. "For some, it's an annual tradition to bring the family, take photos in front of the shop and stop by for a treat. Ultimately, what's important to me is that we create a sweet moment in peoples' lives."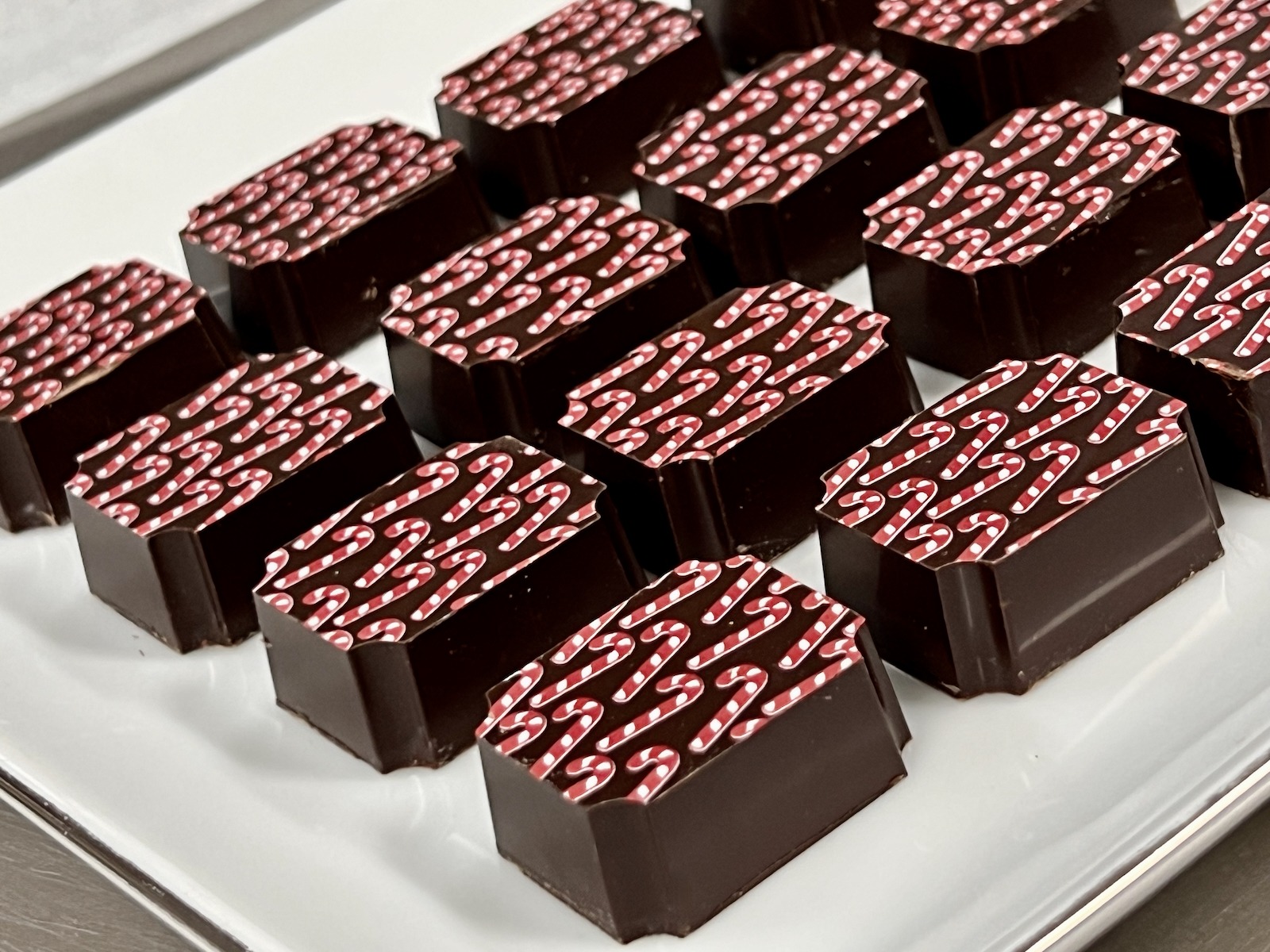 Fazio's candies are available to purchase in traditional four to 30-piece boxes, as well as special eight-piece candy cane shaped boxes. They can be ordered online at fazioschocolate.com for shipping, in-store or curbside pickup. You can also keep up with what's new by following them on Facebook and Instagram.

Fazio's is open Monday through Saturday from 10 a.m. to 6 p.m. and Sunday from 10 a.m. to 4 p.m. 

Fazio's will be open on Dec. 24 and Dec. 31 from 10 a.m. to 4 p.m. But the shop will be closed on Dec. 25-26 and Jan. 1-8.